cool eats
Sugar & Spice: Everything Nice
The ingredients for success may vary from business to business, but one mother-daughter team put together a winning recipe in 10464. Irina Brandler and her mother Ina combined a little bit of sugar with a little bit of spice and found themselves with everything nice! Their catering business and dessert café on City Island in The Bronx is a successful testament to the touching moments and trying challenges that accompany working side by side with your immediate family. Irina, a French Culinary Institute graduate, handles all the baking while Ina oversees the lunches. And the advice on how to dress for tomorrow's weather. A few of the current S&S specialties are homemade, heart-healthy granola and "kitchen sink" cookies – made with 3 kids of chocolate, cherries, coconut, walnuts, butterscotch, and, well, everything but the kitchen sink! This winning team does more than just satisfy the sweet tooths of New Yorkers, the bakery also runs community outreach programs that teach underprivileged children how to bake. CiNYC Hosts Shirley & Christopher stopped by to lick a couple wooden spoons at this cheap eats find.
Sugar & Spice
536 City Island Ave, 10464
sugarandspiceonline.com
See what else is cooking in The Bronx at www.coolinyourcode.com/tag/bronx.
Taste more Cool Eats at www.coolinyourcode.com/category/segments/cool_eats.
Try this delicious banana bread recipe at home, courtesy of the gang at Sugar & Spice:
2 Cups sugar
1 Cup butter
2 Eggs
½ Cup buttermilk
3 ½ Cups Flour
1 T Baking powder
2 t Baking soda
1 t Salt
1.5 T Vanilla or 1 vanilla bean
2 t Cinnamon
1 Cup raisins
1 Cup walnuts
1. Beat together butter and sugar, add bananas
2. Whisk together eggs and buttermilk
3. Sift all dry ingredients
4. Combine wet and dry ingredients
5. When mixture is incorporated add raisins and walnuts
6. Bake in a buttered and floured loaf or cake pan at 350° until test pick comes out clean
Are you sugar or spice? (Sorry, no one is everything nice all the time)…
Post a comment below and tell us what you're made of.
cool eats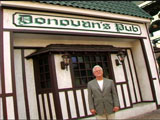 There is an old Irish saying that reads, "Men are like bagpipes – no sound comes from them until they are full." This might explain why there is never a quiet (or dull) moment at 11377's famous burger joint – Donovan's Pub!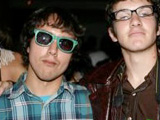 You might be a hipster if, like Lola Wakefield, your research into this fascinating culture of indie rock fans, thrift store shoppers, and vegetarians, painted a picture of, well, you.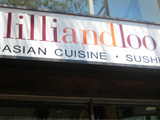 If you're living with Celiac's Disease you know that restaurant dining can be risky. However, a safe culinary experience is waiting to be had on Lexington Avenue at Lilli and Loo, a restaurant that works with the Gluten Intolerance Group to offer patrons gluten-free Asian cuisine in addition to their standard fare.