Code Trip
Yonkers Code Trip
CiNYC cruised five miles north of Manhattan to check out the historically rich and currently vibrant city of Yonkers. At X2O Xaviars on the Hudson, our Code Trippers indulged in such creations as a Nantucket Bay Scallop Tartlet, Yonkers Shellfish Chowder, and a Miso Glazed Chinook Salmon at this stunning restaurant right on the water. Owner and Chef Peter X Kelly welcomes diners to the Hudson Valley to savor desserts like Warm Espresso and Chocolate Cake or Old Bushmills Butterscotch Pudding, while choosing between the breathtaking views of the George Washington and the Tappan Zee Bridges.
A trip to Yonkers must include a stop at the Empire City Yonkers Raceway. This track has been here for more than a hundred years and is one of harness racing's few year-round venues. Thoroughbreds raced here for a brief period in the beginning of the century, but this facility has been solely dedicated to harness racing since 1942. A huge renovation in 2006 made this raceway a full gaming lovers destination. When you're ready for a Code Trip, head north and make Yonkers your own!
X2O Xaviars on the Hudson
71 Water Grant Street, 10701
www.xaviars.com
Empire City Yonkers Raceway
810 Yonkers Avenue, 10704
www.yonkersraceway.com
Which Yonkers Destination Do You Yearn To Visit?
Post A Comment And Let Us Know!
Code Trip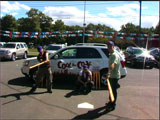 Two adventurous Code Trippers embark on a scavenger hunt throughout Manhattan, with Host Christopher as their guide, on this Best of Sports edition of Code Trip.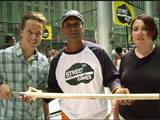 CiNYC Host Christopher picks up our latest Code Tripper in Long Island City – 11101 to be exact. Our dynamic duo cruises the city in our Pontiac Codester to explore some viewer suggestions on what's cool in their zips.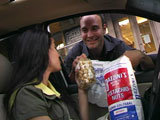 In this premiere Code Trip, CiNYC Host Shirley gets the keys to a brand new Pontiac Codester in New Rochelle, 10801, and then cruises downtown with our Code Tripper Kevin to check out 10007 and 10013, otherwise known as Tribeca!