bar code
Bridge Café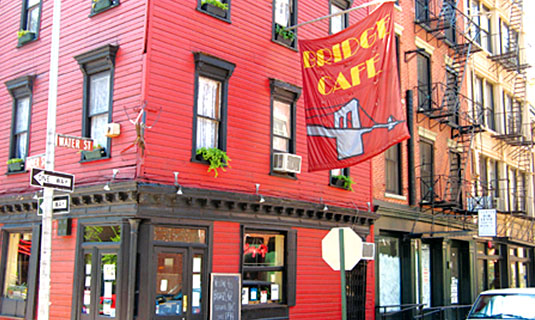 In the shadow of the austere Brooklyn Bridge sits New York City's longest-operating drinking establishment, the aptly-named Bridge Café. Built in 1794, it opened its doors as a bar in 1847, thirty-six years before the completion of the bridge. Today, the single-malt whiskeys and soft-shell crabs are still favorites among the locals.
279 Water Street
EXTRA:
The Oldest Bars In Manhattan
Want a bit of history to accompany your brew? Drink where many, many have drunk before.
Fraunces Tavern
Opened in 1762, this meeting place for revolutionary leaders – including General George Washington – is now a full-service restaurant and museum.
54 Pearl Street, 10004
Ear Inn
Where the atmosphere is still as old as the house it's located in, which is about 150 years.
326 Spring Street, 10013
McSorley's Old Ale House
Serving only two types of beer ("light" or "dark") since 1854.
15 East 7th Street, 10003
The White Horse Tavern
Famed literary hangout since 1878 and death place of "poet, scholar, and gentleman" Dylan Thomas.
567 Hudson Street, 10014
Waterfront Crab House
Crammed with memorabilia that might just date back to the bar's opening in 1881.
02-03 Borden Avenue, 11101
Old Town Bar
Opened as Viemeister's in 1892. If you search the booths hard enough, you can find the hidden compartments used to store drinks during Prohibition-era raids.
45 East 18th Street, 10003
Bohemian Hall & Beer Garden
Opened by Czech immigrants in 1910, this outdoor space boasts comfortable seating for 900.
29-19 4th Avenue, 11102
bar code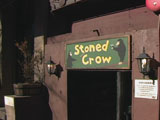 A stop in at The Stoned Crow is anything but ordinary. This Washington Place watering hole is popular with the locals and the NYU crowd.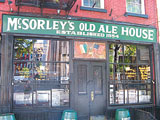 McSorley's Old Ale House has been serving up it's own home brew since 1854. The drink menu consists of light or dark McSorley ale and is complimented by classic pub fare, including burgers and liverwurst sandwiches.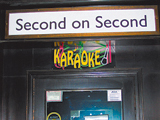 If singing in front of a crowd of strangers sounds as agonizing as that dream where you show up to work naked, rent out your own karaoke room at Second on Second karaoke bar and restaurant.