cool eats
Wine Cellar Sorbets
"Wow! That's wine!" Queens native Bret Birnbaum describes the reaction people have when they first taste the product he and chef David Zablocki are hoping will take the culinary world by storm. Must be another trendy wine, you say? Not exactly. It's sorbet. Wine sorbet.

Birnbaum and Zablocki decided back in 2002 to combine their respective backgrounds in business and the culinary arts. Initially, they thought of opening a wine bar in Williamsburg. But when Zablocki mentioned the wine sorbets he sometimes offered to his catering clients, a cork popped. The decision was made to ditch the bar, and freeze the wine. Four years later, the Greenpoint-based Wine Cellar Sorbets are being sold in 25 retail outlets throughout the metropolitan area, as well as select hotels and restaurants. It's an ideal working relationship for these two childhood buddies. Birnbaum handles the business end, marketing the wines and promoting their uniqueness, while Zablocki is in charge of the production process and all gastronomic pursuits.
As with their liquid cousins, the sorbets range from whites, like Rieslings, to heavier, robust reds, such as Cabernets. When Birnbaum presides over tastings, he lines up all seven flavors, from the lightest to the strongest, and suggests people try them all. "It's like a wine tasting," he says, adding, "They're not super sweet, but they're zero fat and full of flavor." They also have close to 5% alcohol content. "It's an adult dessert," says Birnbaum. Adds Zablocki, "You can definitely catch a buzz if you eat enough." The sorbets have other things in common with wine, as well. All the artwork on the packaging is hand-drawn and the design resembles wine labels, setting them apart from "regular" sorbets and ice creams. The containers even indicate the vintage of the specific wine used.
The perks of such a venture are obvious. "I get to sample a lot of great wines," says Chef Zablocki, who also notes that the product is not simply wine-flavored, but in fact made almost entirely of wine. As such, their sorbets will be affected by the vagaries of the wine industry and the different yields from annual harvests. "From season to season, year to year, our sorbets will change. We can never mass-produce our product because wines are never mass-produced. That's what's exciting about what we're doing. It's a new format for wine and wine lovers." Making wine sorbets a dessert staple remains the ultimate goal. "No one's really been doing this," says Birnbaum. "We want to be the Ben and Jerry's of wine sorbet."
Find out where you can try wine sorbet at www.winecellarsorbets.com
cool eats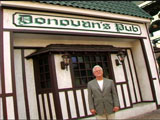 There is an old Irish saying that reads, "Men are like bagpipes – no sound comes from them until they are full." This might explain why there is never a quiet (or dull) moment at 11377's famous burger joint – Donovan's Pub!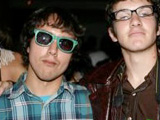 You might be a hipster if, like Lola Wakefield, your research into this fascinating culture of indie rock fans, thrift store shoppers, and vegetarians, painted a picture of, well, you.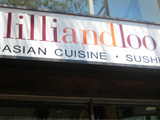 If you're living with Celiac's Disease you know that restaurant dining can be risky. However, a safe culinary experience is waiting to be had on Lexington Avenue at Lilli and Loo, a restaurant that works with the Gluten Intolerance Group to offer patrons gluten-free Asian cuisine in addition to their standard fare.