local flavor
Brooklyn VI
Cast a line off the Brooklyn VI and you could reel in a prize-winning tuna, mackerel, or even a bluefish. Captain Rob has caught them all at one point, and so have his patrons. This deep-sea fishing vessel is 110 feet long, 22 feet wide and uses 3 diesel engines to power its way through the waters of New York and New Jersey. Full Day trips run from 7:00 am to 3:00 pm, or be daring and try a night trip from 7:00 pm to 3:00 am. The VI has been sailing strong since 1948, and docks at Pier 6 in Sheepshead Bay.
Pier 6, Emmons Avenue at 26th Street, Sheepshead Bay, Brooklyn
(718) 743-8464
EXTRA: What To Pack For A Fishing Trip
Ahoy, matey! A deep-sea fishing trip is fun, but make sure you pack right to avoid a deep-sea disaster. You can thank us later.

Sunscreen. There aren't any tall buildings blocking the sun out on the water, New York! Sunburn is the last thing you want to disembark with, so sunscreen is a necessity.

Sunglasses. It's bright out there on the high seas, and squinting for 8 hours straight will surely make your face hurt.
Rags. Fish guts. Need we say more?
Extra Layers and Gloves. It may be a comfortable temp on the shore, but it's always cooler and windier on the water. Bring a hoodie or jacket, and gloves if you're sailing during the fall or spring.
Rain Gear. Seriously, you never know. We recommend an oversize poncho that will cover you head to toe, because you can't really cast while holding an umbrella.
Camera or Camcorder. Your friends might be skeptical when you say you caught a fish "this big!" Documenting every second will give you proof, and bragging rights.
A Beat-Up Bag. With all the sea spray, fish slime and bait blood, there's no place for a designer bag on the water. Hold all your gear in something you wouldn't mind getting a bit messy.
Binoculars or Spyglass. You never know what marine life you'll spot on the ocean. At the very least, it'll make you feel like a real pirate.
local flavor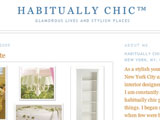 For the Habitually Chic Heather, inspiration and design are just two of the innumerable themes that can be found in abundance in both New York City as well as her blog.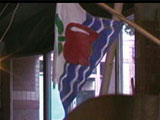 In the warmer weather months when the sun is beating down on the New York City pavement and your body is being cooked from all angles, it is often difficult to remember that Manhattan is an island with easily accessible bodies of water.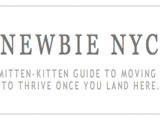 New to New York City? Unsure of how to start looking for an apartment? Curious about where you can start making friends? For many of these answers, you can turn to New York City newbie, Mary Hilton's blog. She made the move to the city from Washington D.C. a few years ago.