around the blog
Habitually Chic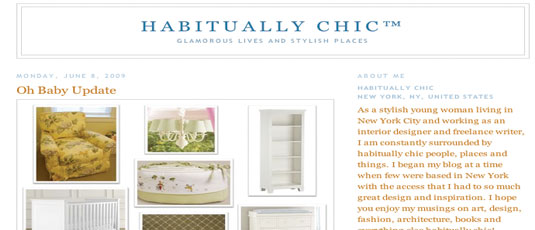 For the Habitually Chic Heather, inspiration and design are just two of the innumerable themes that can be found in abundance in both New York City as well as her blog.  Habitually Chic is the one-stop spot for the aspiring artist/interior designer or the curious New Yorker who is simply eager to seek out some new design tips for their ever-changing apartment and lifestyle.  Heather blogs about everything from fashion to photography and doesn't stop there.  Anything that catches this trendsetter's attention is worth writing about and spreading the word.  Whether you're interested in broadening your artistic horizons or desperately needing to impress your high society friends with your knowledge of the latest in haute couture, this blog is certain to become your new go-to guide and addiction.
Tell us about your blog Habitually Chic and what you cover?
I am an interior designer and predominately cover inspiring decorating and designers on my blog (www.habituallychic.blogspot.com) but since I feel that all design is related, I also write about art, architecture, photography, fashion and books.  I am lucky to live in New York where I get to attend chic events and meet top designers and other influential stylemakers.  My readers love hearing about my adventures and appreciate my insider access, candor and humor.  Decorating is not always glamorous! 
Why did you start your blog? 
I was working for a top interior designer and would check out design blogs in my spare time.  I happened to read Style Court and The Peak of Chic who were both covering the soon to be opened Charlotte Moss Townhouse.  It got me thinking that if two bloggers in Atlanta were discussing something that I walked by everyday, then maybe I should start my own blog and write about the design world from the New York perspective.
What brought you to New York?
I had wanted to live in New York since I was little and was lucky to work for a company in Boston that had an office here which I transferred to August 2001.  Not exactly the best timing but it made me a real New Yorker right away!
What do you love about living in New York?
I love that you can get anything you want delivered at any time of the day!  I also love that magazines and movies come out earlier in New York than other cities so we get to see things first!  But what I love most are all the wonderful museums and galleries.  I could never live without art!
What do you think makes a New Yorker?
Having a dream!  I don't think anyone would move into a shoe box sized apartment unless they were working toward a larger goal!  The fun part is meeting people and finding out what that dream is…fashion designer, famous movie star, successful business mogul or top model.  Since there are so many people living here who have already achieved their dream, it definitely keeps you motivated to keep going!
What surprises you about New York or New Yorkers?
That we really are nice and helpful! It may take a minute to get their attention but New Yorkers will gladly give a tourist directions or help someone in need.
When you leave New York, what do you miss the most?
The energy!  I miss the all the people and hustle and bustle even though that's what sometimes annoys you when you live here!
What's your favorite home store?
I have two favorite stores.  The first is Gracious Home.  It is the go to place for every interior designer in the city since they sell everything you could every possibly need including the kitchen sink!  And they deliver! My second favorite store is Pearl River.  They have great selection of Asian home accessories and tableware at a great price.  The rice bowls are perfect for displaying beaded necklaces or matches from all the New York restaurants.  The possibilities are endless! 
Best place to find a design bargain?
Talk to any designer and they will tell you how much they love the Housing Works Thrift Shops!  My best find was a matching set of gold rimmed champagne and wine glasses but you can find amazing furniture and art if you are lucky and get there at the right time.
Best place to find design inspiration?
I think that it's important to visit the expensive antique shops even if you can't afford anything so you can educate yourself and train your eye so you know what to look for when you go to the flea markets! 
Best place to get away from the tourists?
I love that just a few blocks over from Broadway in Soho, the streets are quiet and peaceful.  Elizabeth and Crosby Streets have wonderful little boutiques that are never crowded. 
What's the last movie that you saw?
I just saw the Valentino documentary at the Film Forum and in the audience was one of the fashion reporters in the movie! 
Strangest/ coolest NY experience you have ever had?
I was walking to Bed Bath and Beyond when I looked over and saw a man in full cowboy regalia riding a horse down First Avenue!  And there was no camera crew following him.  It's those crazy only in New York moments that make living here so much fun!
What are some of your favorite home decorating tips?
Post A Comment And Let Us Know!
around the blog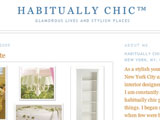 For the Habitually Chic Heather, inspiration and design are just two of the innumerable themes that can be found in abundance in both New York City as well as her blog.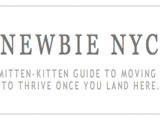 New to New York City? Unsure of how to start looking for an apartment? Curious about where you can start making friends? For many of these answers, you can turn to New York City newbie, Mary Hilton's blog. She made the move to the city from Washington D.C. a few years ago.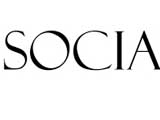 For those people who in High School just missed being voted the hippest, liveliest, or most fun person in the grade, there is now a new site for them to redeem their past social misfortunes.