back on the block
Eli Wallach
Cool in Your Code has played host to famed personalities like Jerry Stiller and pop star Moby on the show's revealing interview segment, Back on the Block. The latest legend to join BoTB Host Hank Wasiak was celebrated actor Eli Wallach. Their talk earned CiNYC a New York Emmy award for Best Interview/Discussion. The Emmy-winning piece took place at iconic eatery Sardi's in 10036. Wallach and his
wife actress Anne Jackson were married at the famous theater district spot in 1948. He shared stories with Hank about his time on the silver screen with such luminaries as Marilyn Monroe, Montgomery Clift, and Clark Gable. For over 60 years, this Brooklyn native graced both stage and screen with his commanding presence. He always knew he would be an actor, though his older brother tried to talk him out of it, encouraging him to be a teacher instead. "So I took the City College exam," Wallach recounts, "but failed. I thought, 'Great!'"
Wallach earned a B.A. from the University of Texas in Austin and further dramatic training from the Actor's Studio and the Neighborhood Playhouse in New York. Some of Wallach's notable films include The Magnificent Seven (1960), How The West Was Won (1962), The Good, the Bad and the Ugly (1966), The Godfather Part III (1990), and The Holiday (2006). He's also appeared in countless TV shows and stage productions. Hank had a chance to talk to Wallach about his book, "The Good, the Bad, and Me," a clear homage to the epic film he starred in with Clint Eastwood. In it, he tells about the time he had to share a bed with Eastwood while shooting in Madrid. His philosophy is written in the final lines of the book. Wallach quotes one of his favorite playwrights, Tennessee Williams: "Make voyages. Attempt them. There's nothing else." Despite Wallach's glamorous Hollywood career, he's never been persuaded to live outside New York, and the city is thrilled to have him.
Sardi's / 234 West 44th Street, 10036

back on the block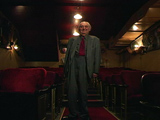 "It's the audience that makes you a star." Well, since 1934 audiences have delighted in the acting talents of Brooklyn-born Fyvush Finkel, who goes Back on the Block with CiNYC Host Hank through Manhattan's Lower East Side.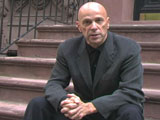 Many famous Americans call NYC home. This segment gives viewers the chance to get closer to their favorite personalities as they reminisce about the people, places, and boroughs that helped shape their lives.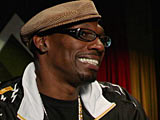 With recurring roles on Chappelle's Show, three sold out comedy tours, and various parts in movies, Charlie Murphy has plenty to boast about.