cool eats
Greenpoint
Cool in Your Code takes you behind the counter of some of Greenpoint's tastiest restaurants. Whether you're in the mood for a coffee or a polish feast, Greenpoint has something to suit your taste.
First up is Greenpoint Coffee House, home to a luscious list of libations accompanied by scrumptious food. The coffee connoisseur will be pleased with the true Italian style espresso and the cold white wine hits the spot on a hot afternoon. The comfy retro décor and beautiful woodwork invite you to brunch and talk you into relaxing with a cup of joe.
195 Franklin Street, 11222
Next, visit King's Feast, the place to go for authentic Polish cuisine. Owner and Head Chef Krzysztof Drzewiecki left his position at Nobu in order to open a "genuine Polish restaurant," that would cater to Greenpoint's large polish community. Classic cuisine such as pierogies and golobki are in abundance, but visitors can also enjoy a myriad of other delicacies such as trout stuffed with spinach or duck legs with apples. Even if you're not Polish, you'll want to polish off a meal here.
694 Manhattan AvenueI, 11222
Take a break from Polish cuisine at Thai Café, serving up the best in Thai for over 14 years. This 11222 staple is bright and airy and the colorful setting is often complemented by artwork from local artists. Greenpoint residents swear by Thai Café's pad thai and say the prices can't be beat. Other dishes not to miss include the green papaya salad and the steamed mussels. When you need a break from borscht, Thai Café offers a refreshing change.
925 Manhattan Ave, 11222
Last but not least, Liza Queen and her quirky, unpredictable restaurant The Queen's Hideaway. The customers and the laid-back country décor remain the same, as does the quality of the food, though the menu itself is ever changing. Reflecting the available fresh produce, The Queen's Hideaway menu is a dynamic exploration of Ms. Queen's flavorful culinary talent. From pan-fried whole Dorado stuffed with turnip, pancetta, apples and walnuts, to the "mess of meaty greens," the dishes are fresh and perfectly executed. They even have a backyard for hot summer nights and fresh rhubarb pie to accompany them.
222 Franklin Street, 11222
cool eats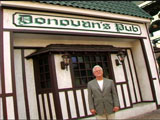 There is an old Irish saying that reads, "Men are like bagpipes – no sound comes from them until they are full." This might explain why there is never a quiet (or dull) moment at 11377's famous burger joint – Donovan's Pub!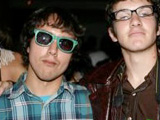 You might be a hipster if, like Lola Wakefield, your research into this fascinating culture of indie rock fans, thrift store shoppers, and vegetarians, painted a picture of, well, you.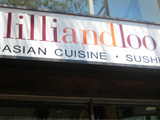 If you're living with Celiac's Disease you know that restaurant dining can be risky. However, a safe culinary experience is waiting to be had on Lexington Avenue at Lilli and Loo, a restaurant that works with the Gluten Intolerance Group to offer patrons gluten-free Asian cuisine in addition to their standard fare.