code words
Break From the Norm Burgers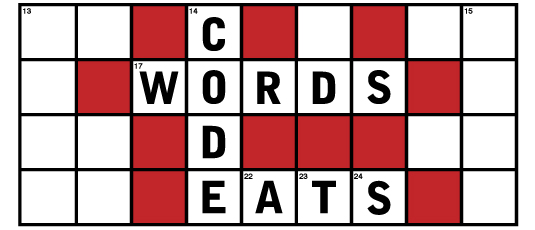 "Break from the Norm" Burgers: Del Frisco's, Ruby's, Great Jones Cafe
By The NYC Food Guy
In this "burger obssessed age", where beef on a bun is the restaurant industry's lone recession-proof dish, NYC Food Guy is here to shed some light on three burgers that are a break from the normal fare.  One's both beauty and beast, one's from Down Under and the last is just a heart-stopper.  Read on for three different takes on an American classic…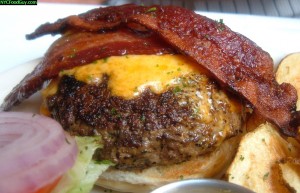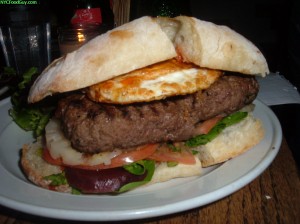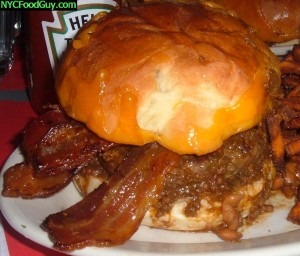 Beauty & The Beast
10 oz. Prime Burger ($15.95, served at lunch only) with cheddar, lettuce, tomato & onion
Del Frisco's Double Eagle Steak House
1221 6th Avenue at 49th Street
New York, NY 10020
212-575-5129
If you're looking to eat a beast of a burger in a beautiful atmosphere, Del Frisco's burger is for you.  The burger arrived topped with sharp cheddar and complementary sugar-cured bacon which had been slow-cooked 4 hours.  The slightly-sweet bun was lightly toasted but remained airy and soft.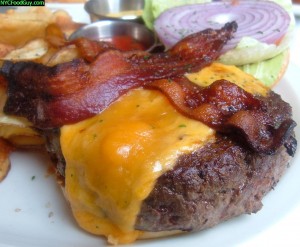 As a steak house burger, the sweet flavor of the beef shined through foremost, so much so that ketchup isn't really necessary.   The fresh-tasting 10 ounce patty arrived a perfectly cooked to order medium rare but the slow-cooked bacon stole the show. It was incredibly savory and melted in your mouth, some of the finest bacon I've tasted.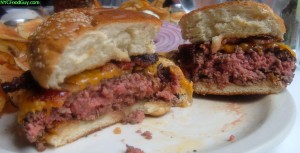 The mildly sharp cheddar offered a flavor that didn't meld with the clean-tasting burger.  The bun also had issues,  it was too flimsy to stand up to the juiciness of a burger this size.  As you can see below, the burger overtook the bun resulting in final bites that were all burger and no bread.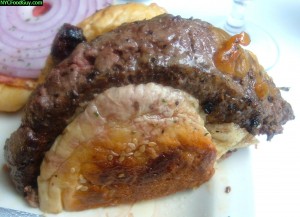 At $11.95 per order, the onion rings are sweet and crispy but unnecessary.  They failed to enhance the burger when placed on top and eaten in the sandwich and they stole valuable stomach space.  The homemade potato chips were similarly defeating, arriving room temperature and lacking any purpose of flavor.  Steer clear of both, in addition to the complementary bread offered at the beginning of the meal, if you want to get your moneys worth with the burger.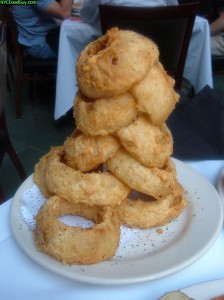 The Australian Burger
Whaleys ($12.50) Premium ground beef, tomato, lettuce, beet, pineapple, fried egg, ketchup
Bronte ($11) Premium ground beef, tomato, lettuce, sweet chili, mayo, cheese
219 Mulberry Street b/t Spring St. & Prince St.
New York, NY 10012
212-925-5755
This easy-to-miss, 4-table Australian bar and cafe offers 5 types of burgers, two with chicken breast, in addition to some interesting pastas, paninis, salads and breakfast until 1pm.  No French fries or chips are offered.  The Whaleys, seen below, is the most unique burger on the menu but it's diverse ingredients didn't create any harmony around the meatloaf-like burger.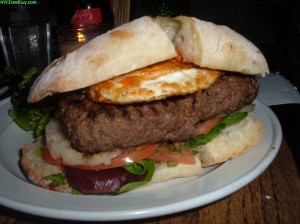 More aptly described as a massive meat sandwich, the Whaleys arrives on a crisp but untoasted ciabatta roll which hardly hugs the cumbersome ingredients.  It's awkward texturally and poorly constructed, the entire sandwiched dominated by the sweetness of the pineapple and ketchup cut against the garlicky beef patty. The overcooked fried egg repelled from the burger and the cold beets, tomato and pineapple continued to detract from the overall unity.  Only the accompanying mixed greens salad dressed in a savory balsamic vinaigrette shined.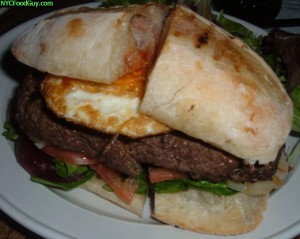 The Bronte burger (below), made famous at Kingswood, another Australian restaurant owned by Ruby's proprietors, was more in tune overall.  Sweet chili sauce and mayo rest atop two slices of melted Swiss cheese which keeps the burger tied to the ciabatta.  I recommend this burger, which may be better as a chicken breast sandwich, over the Whaleys.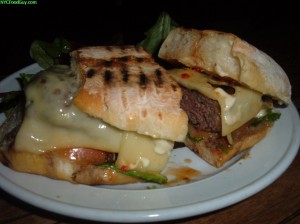 If I return to Ruby's, it would be to pair a non-burger offering with one of their three Australian beers: James Boag, Coopers and Lucky.  Lucky ($7), which comes in a Buddha shaped bottle, was delicious, reminiscent of a lighter, more bubbly Red Stripe.
The Heart-Stopper
Chili Bacon Cheeseburger ($16)
54 Great Jones Street b/t Lafayette St. & Bowery
New York, NY 10012
(212) 674-9304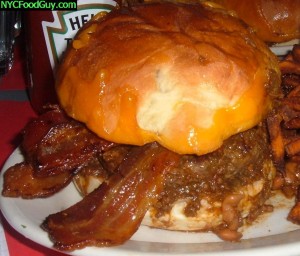 My first impression: "Wow, I am a carnivore."  This meat-lover's burger, served in the cozy, dimly lit confines of this friendly bar and restaurant delivers 3 slices of well-crisped bacon and a light coating of "Mission" beef chili (beef, red beans, celery) crowned atop a massive, griddled beef patty.  It's all sandwiched between an airy yet sturdy bun from Parisi bakery, the top half of which a healthy amount of cheddar is melted upon.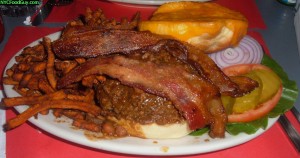 Overall this massive burger lacked the flavor punch one would hope for.  The juicy yet slightly overcooked burger would have benefited from a nice charbroiling, the flavor of smoke and fire would have added some much needed depth.  The bacon was superfluous, hearty but standard.  The "Mission" beef chili, one of a rotating menu of chili, was mild and thin.  After failing to create the spice I desired by adding some El Yucateco habanero hot sauce, I requested some chopped green jalapenos to add onto the burger.  The flavor of the peppers was a nice touch, but the spicy bite I desired to complement the sweetness of the bun, was missing.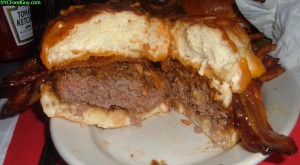 Opt for the sweet potato fries, some of the best I've had, over the hand-cut fries below.  The sweet potato fries cut through the saltiness of the chili cheese burger but the heavily-salted regular hand-cut fries, made from a darker potato than your standard Idaho, didn't complement the burger quite as well.   They would, however, make a great base for chili cheese fries.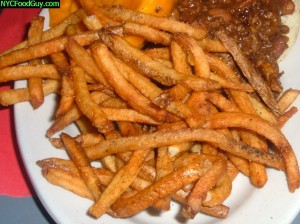 I'd just as soon return to Great Jones Cafe to drink as I would to sample some of their other reasonably priced home-cooked offerings such as the Barbque Ribs or the Garlic Shrimp Sautee. A new menu of daily specials accompanies the quality beer menu, which during Happy Hour (5-7PM Daily) allows you to enjoy a $3 pint while listening to Bluegrass on the old school jukebox.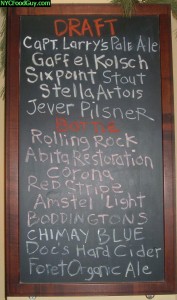 What's the worst burger you've ever had in New York City?
Post a Comment And Let Us Know!
code words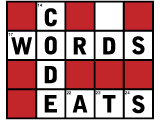 In this "burger obssessed age", where beef on a bun is the restaurant industry's lone recession-proof dish, NYC Food Guy is here to shed some light on three burgers that are a break from the normal fare.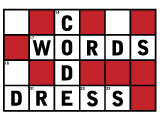 Being a bargain hunter, with a taste for the finer things in life, is no less than a full time job; and most New Yorkers just can't find the time in their already hectic lives. So what's a thrifty shopper to do? Rely on the Guerilla Shopper – that's what!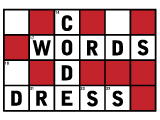 Want to look like a million bucks without spending anywhere near that? Who doesn't? The Guerilla Shopper has mastered the fine art of finding a great deal.