bar code
Long Island City Bar Crawl
Long Island City nightlife is as vibrant and diverse as the artists who live there. Follow Shirley and Brandon as they sip drinks at two 11101 locales, the swanky Lounge 47 and laid-back The Creek and the Cave.
The Creek and the Cave, 11101
The Creek and the Cave, an "ultra-chill Mexican grill, bar, lounge, patio, and pool hall" is the whole enchilada of nightlife needs. A favorite for artists and frat boys alike, The Creek and the Cave offers foosball and beers downstairs and a theater for open-mics and indie movie nights upstairs. They also showcase local bands and feature all-night DJs on the weekends. "Every night is margarita night," co-owner Jay Chambers informs us. And the full Mexican grill serves lunch and dinner daily. Some of their must-try dishes include the black bean quesadilla and the chicken flautas. The Creek and the Cave "has something cool going on all year long," says Chambers. Where else can you get cool eats, sweet tunes, and a healthy dose of foosball competition all in one night?
10-93 Jackson Avenue between 48th and 49th/ Hunters Point Avenues, Queens
(718) 706-8783
www.thecreekandthecave.com
Lounge 47, 11101
From the dim lighting to the low couches and the ever-present hum of jazz music, Lounge 47 offers a low-key comfortable atmosphere. When things heat up in the summer, take refuge out back on the large patio while you sip one of their delectable drink specials. Don't miss their unique version of a Long Island Iced Tea that has a twist of peach, or their Kiss-Me-Tini made with vodka, Crème de Cacao and a chocolate kiss. Equally impressive is their extensive and reasonably-priced menu, which offers a mix of bar fare and tapas. Try an appetizer of spiced olives or the wasabi deviled eggs. But be careful; some find the comfort of Lounge 47 irresistible. "I love coming here after work," says patron Ginny Peete. "My living room isn't as relaxing as this place."
47-10 Vernon Boulevard at 47th Avenue, Queens
(718) 937-2044
bar code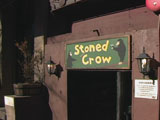 A stop in at The Stoned Crow is anything but ordinary. This Washington Place watering hole is popular with the locals and the NYU crowd.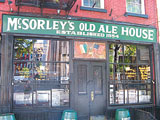 McSorley's Old Ale House has been serving up it's own home brew since 1854. The drink menu consists of light or dark McSorley ale and is complimented by classic pub fare, including burgers and liverwurst sandwiches.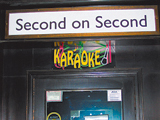 If singing in front of a crowd of strangers sounds as agonizing as that dream where you show up to work naked, rent out your own karaoke room at Second on Second karaoke bar and restaurant.