around the blog
Jet Set Girls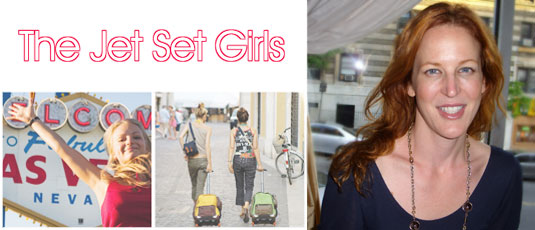 Hope Schmid and Anne Fritz are the ultimate girly girls. They love clothes, make-up, shopping, and, above all, travel! These two childhood friends are experts on planning and executing girl get-a-ways. On their blog, The Jet Set Girls, Hope and Anne share their discoveries of the swankiest hotels, trendiest clubs, and most fabulous restaurants. Whether you are planning a full on beach getaway to Atlantis or a quiet weekend break in upstate New York, these girls will tell you where to sleep, what to buy, and how to dress to get the most out of any vacation. Many of their finds can be enjoyed even while stuck at home. They know which moisturizers to try when the weather heats up, can tell you where to find the latest Marc Jacobs dress, even scout new, inexpensive wines. After all, girls just want to have fun, wherever they are.
Anne is the New York City half of The Jet Set Girls. She slowed down long enough to tell us how she spends her time, when not traveling.
What brought you to New York?
I wanted to live here because I was crazy about magazines and all I ever wanted to do was work at one! I moved here without a job two months after graduating from Syracuse University. I started working at a now defunct real estate trade magazine within a month of moving here. NYC is still—and will always be– the capital of the publishing world.

What do you love about living in New York?
I love all the diversity and the people! NYC really does attract the best of the best in so many different fields (fashion, finance, food, publishing).
I also love that we're the first to get everything (movies open here months before anything else) and we get exclusive fashion lines—think H&M's Cavalli collection or the Gap Mulberry bag. Not to mention all the sample sales!

What do you think makes a New Yorker?
You have to live in NYC at least a decade. I LOVED, LOVED, LOVED New York for several years after moving here. Whenever I traveled I would practically be giddy coming home, even after a vacation. I felt that it was a privilege to live here. Then I went through a phase when I hated NYC—I recall a particularly disheartening trip to Home Depot in the rain when the subways weren't running properly. I think I had to be aware of and accept its bad side (kind of like with a boyfriend), before I could be a true New Yorker. Now, the city is home.
What surprises you about New York or New Yorkers?
You never know who or what you're going to turn around the corner and see. It might be a giant chair with a life-size horse (an art instillation at the corner of 59th and CPS a few years back); someone riding a bicycle while dressed as a flower child and playing Beatle's music on a boom box; a dress you would sell your soul for in the window at Bergdrof's or George Clooney standing outside the Peninsula!

When you leave New York, what do you miss the most?
Being able to eat late! My mom is in Alabama and all the restaurants start closing around 10. And the variety of food can't be beat!
Do you know any tricks or insider info?
My best tip, which my boss at my summer internship many years ago told me and which I have passed on to all New York newbies, is to learn the order of Avenues and which way they run. Once you know this, you'll never walk in the wrong direction again (at least above 14th St!).
Tell us about your blog… what is the premise, what are your main coverage areas, how did you get started?
The Jet Set Girls focuses on every aspect of girls' getaways. We know lots of women take trips with their girlfriends to escape from home. So that means they want to look their best, stay at an awesome hotel, go to scene-y restaurants and bars and basically have a lot of fun!
Hope and I had the idea for The Jet Set Girls last April when we were planning our friend's bachelorette party to Vegas. We had so much fun researching the hotels, pool scenes, shopping, restaurants and clubs that we decided to start the blog.
We cover every aspect of a girls' trip from hot destinations, new hotels, must-have fashions for night's out, hair and makeup tips for various scenarios (fighting frizz in Miami, a trick for making your eyes look brighter after a long night), restaurant and food and drink news. Even though our focus is girls' getaways, a lot of the tips work in your everyday. New York does get pretty steamy in July and hangovers aren't reserved for vacations!
Best corny tourist attraction that you secretly love?
The Brooklyn Bridge. It's so gorgeous and iconic and not scary at all for a bridge. I work in DUMBO a few days a week and when the weather is good, I walk home over it. I always see loads of tourists taking pictures of themselves. On this past Valentine's Day, I even saw a guy proposing. He had sprinkled rose petals around the bench. Very sweet and romantic!
Best neighborhood bar?
I like Lansdowne Road. I live in Hell's Kitchen. The 8th Avenue bars are way too touristy to venture into and even the 9th Avenue ones get a little too crowded sometimes. Lansdowne Road is on 10th, which makes it just far enough off the beaten path. It's great for watching games. They do all these fun contests like the whole bar gets a free round when the Alex Rodriguez hits a home run. The food is good enough for bar food and there's a cool ice strip on top of the bar to keep your drinks cold.

Best fancy schmancy restaurant?
I'm a sucker for 21! It's such a classic and has so much history. If you ever go, ask your waiter if you can see the wine cellar in the basement and the door to the original speakeasie. All the jockies outside make the place fun to walk into. Inside, the toys on the ceiling are such fun. The hosts and waiters have worked there for years and are there to meet your every demand. The menu never changes and has all the classics—lobster salad, a burger, steak tartar and the best crème brule ever!
Best place to meet members of the opposite sex?
The Brass Monkey in the Meat Packing District. It's a block away from the West Side Highway so much more low key than the typical MPD bar. I've always met nice, cute friendly guys there.
Best new fashion trends / brands that you are loving?
I can't wait for warmer weather so I can break out my spring/summer clothes! I like all the tribal prints (think Jennifer Garner's Oscar de la Renta dress at last year's Glamour awards), you're now starting to see them at a lower-price point; I love all the brightly colored bags and shoes that are coming out—a risk free way to have fun and add a splash of color to your wardrobe. My personal fashion goal is to experiment with mixing prints. I wore a black and white striped sweater over a pink camo tank the other day that worked out pretty well. Next I want to try polka dots and florals
As for designers—love Tracy Reese, Cynthia Steffe, Catherine Malandrino, Rebecca Taylor—anything really girlie!
around the blog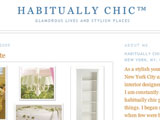 For the Habitually Chic Heather, inspiration and design are just two of the innumerable themes that can be found in abundance in both New York City as well as her blog.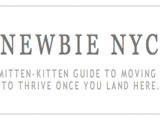 New to New York City? Unsure of how to start looking for an apartment? Curious about where you can start making friends? For many of these answers, you can turn to New York City newbie, Mary Hilton's blog. She made the move to the city from Washington D.C. a few years ago.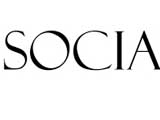 For those people who in High School just missed being voted the hippest, liveliest, or most fun person in the grade, there is now a new site for them to redeem their past social misfortunes.