around the blog
Free NYC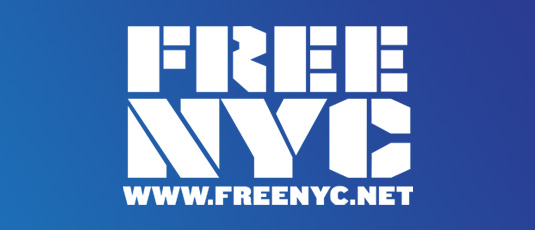 The word "free" is hardly one most associated with New York City. But as two of its denizens are happy to point out – low cost entertainment can be found in many zip codes. That's why two New School students launched FreeNYC, to let New Yorkers know that there's more to this fine city than budget busting cab rides and absurdly priced lattes. In fact, there's an endless array of events & activities that can be enjoyed FREE OF CHARGE!
But don't take our word for it, check out what FreeNYC publisher Christopher Lehault and editor Lindsay Udo have to say about their incredibly cost efficient blog.
Tell us about your blog: what is the premise, what are your main coverage areas, how did you get started? FreeNYC.net is New York City's premier daily guide for free and inexpensive events. Every day we scour through dozens of submissions and hand-select what we find to be the most interesting, most unique, or best values the city has to offer. Most listings tend to cover Manhattan and Brooklyn but we do list events from all 5 borough and we try and concentrate our efforts on nightlife, art openings, live music, community activities, and activism events. 99% of our listings are free with an occasional listing up to $5 simply because it's a great value.
FreeNYC started in 2005 on a complete whim. I often found people asking that inevitable question: "What's going on tonight?" At the time, I was fascinated with blogs and wanted to explore the medium so I figured events and nightlife (something near and dear to my heart) was the perfect subject matter. And like everyone else fresh out of collage – or living here in general – I was always on a tight budget and hunting down cheap stuff to do. Everything kind of came together and it's been a labor of love ever since.
What brought you to New York?
Chris – Initially to study Graphic Design at Parson School of Design (which is my secret day job)
Lindsay – a left wing, communist, hippie, liberal arts college
What do you love about living in New York?
Chris – The accessibility of just about everything in the world. Just about every great musician, artist, author, or thinker comes through this town at one point or another. You can only say that about a handful of cities around the world. It can be overwhelming sometimes when there are two or three great concerts in a night, plus an art opening and a lecture.
Lindsay – The diversity of the people, culture, music and art that just doesn't exist anywhere else.
What do you think makes a New Yorker?
Chris – Oh wow, NYC is so amazingly diverse that it's a hard one to pin down. I think everyone here has a dream and that's the common denominator. For some it's to become a great artist or make it in a band. For others it's to give your children the opportunities you didn't have. And some just want to become stinking rich or become a superstar. Whatever it is, everyone here has something they are driving for that makes all the hard work this city requires well worth it.
Lindsay – You are officially a New Yorker once you have memorized most of the MTA subway map.
What surprises you about New York or New Yorkers?
Chris – I guess its how small "your New York" is. Have you ever noticed that after you live here for a few years that you start to run into people on the street, or in a random bar? In a city with a surplus of eight million you'd never expect to have so many random encounters on the street. But then you look at how much of the city you actually cover on a daily basis, week to week, and you realize that "your New York" is tiny… a handful of bars, a dozen restaurants near work, and a couple blocks around your apartment. That always amazes me.
Lindsay – This one is twofold… What surprises me about New Yorkers is that even with trashcans on every single corner and about every 20 feet in the subway, people still continue to litter. On the other hand, I am constantly surprised how resilient New Yorkers are. From blackouts to giant water pipe explosions, whatever happens New Yorkers can really roll with the punches.
When you leave New York, what do you miss the most?
Chris – 24hr Bodegas (and with that, ATMs.) I've really gotten used to having all the comforts of life within a two block walking distance no matter where I am or what time of day it is.
Lindsay – I miss being able to get food at almost any hour of the day!
Do you know any tricks or insider info?
Chris – A ton of them! Most of which end up on FreeNYC.net. Here are a few quickies that may be obvious to some and eye-openers to others:
– Taxis are only available (technically) when the light on top is on so don't waste your time waiving at all those light-less ones in the rain, save your strength.
– Museums can be expensive but galleries are free. Some of the best art in the world can be found in Chelsea. And on Thursdays it is one of the cities biggest parties so you can get your snacking and drinking in as well without spending a dime.
– You can go to the bathroom just about anywhere in the city (unless there is a maitre 'd)… just don't ask. Walk in and head straight to the back. Most places will think you've come back from a cigarette or cell phone call and are already eating/drinking there. I know the bars and restaurants are going to hate me for this one but its kind of necessity!
Lindsay – One of my favorite things about the city is how many awesome museums there are. What most people don't realize is that a lot of them are "suggested donation" which means that they are only suggesting that you pay their obscenely high prices to get in. You can actually pay-as-you-wish. You should keep in mind though that many of these places rely on your contributions to stay afloat, so try not to short change them too much. Plus, most of the museums (and botanical gardens) have at least a few hours a week where admission is totally 100% free!
Best corny tourist attraction that you secretly love?
Chris – Staten Island Ferry… its like a poor man's cruise! Grab a few tall boys and take a tour of the harbor on a nice spring day. You get some (relatively) fresh air, a nice view of the Statue of Liberty, and its totally free! My other would be watching the sunset over Central Park from the top of the Met all summer long. It's usually pretty mellow up there that late in the day but if you go by yourself, be prepared to take a lot of photos for people. Tourists tend to think that since you are sitting there quietly with a glass of wine that you can be easily interrupted for a photo.
Lindsay – 4th of July Fireworks.
Best neighborhood bar?
Chris – Hmm… thats a tough one since all my good ones were really these country dives that are now closed (Village Idiot) or might as well be (Coyote Ugly). Depending on the neighborhood: Loki (Park Slope), Alligator Lounge or Bushwick Country Club (Williamsburg), Finnerty's (NYU-ville), Botanica (Soho/Village), Welcome to the Johnsons (LES), Heartland Brewery (Anyplace where tourists go).
Lindsay – Well that is a bit of an interesting predicament here in Park Slope, there really seems to be a shortage of good neighborhood bars (see Community Board 6's feelings on Union Pool). But there are some good ones including Union Pool, and The Royale.
Best late night joint?
Chris – Nublu (Ave C and 4th St) or Smalls (10th St & 7th Ave). Both these places always have a small cover, a great laid back vibe, and seem to have magic happening after 2am. Smalls is also 18+ which is golden in a city with little nightlife for the under-21 crowd.
Lindsay – Crooked Disco at Galapagos… I swear I am not saying this because its our party, its really one of the most fun late night joints around!
Last cultural thing that you did (movie, museum, theatre, etc…)?
Chris – Murakami exhibit during the day at BMA followed by a picnic and then caught the Wood Brother's at Bowery Ballroom. Like I said, only in New York.
Lindsay – The Takashi Murakami exhibit at the Brooklyn Museum which was awesome! Before that it was the new Harold and Kumar movie at The Pavilion, totally hilarious!
Best fancy schmancy restaurant?
Chris – I'm not much for fancy schmancy but I'll make an exception for Buddakan. The space is stunning and the food amazing. A close second would be Dressler in Williamsburg.
Lindsay – Al Di La in Park Slope, mmmmm! While it isn't fancy schmancy (you can go in your jeans) it will put a dent in your wallet, but it's totally worth every penny. Their menu changes pretty often so its hard to steer you in the right direction, but their pastas are always perfect, and the hanger steak is a good staple. Oh, and be sure to get dessert!
Best place to meet members of the opposite sex?
Chris – If longevity is a concern then I would say anywhere you are doing something you love (other then drinking and dancing) and there's an easy conversation starter. Chelsea on Thursdays for a gallery hop can be great or the Upstairs in the Square series at Barnes and Noble if these are things you are into (if your more outdoorsy, just try EMS or Chelsea Piers). If longevity is not a concern then Down the Hatch (for college types), Happy Ending (for hipsters) or late night at Crooked Disco (there seem to always be these random makeout sessions going on).
Lindsay – I haven't had to meet members of the opposite sex in a while (yay boyfriend!) but I will say that I was kinda over the whole drunk dudes in a bar thing. I'd say the best places are bookstores, coffee shops, even the park. Any place that encourages conversation beyond "wooo whooooo shots!"
Best live entertainment venue?
Chris – Smalls or the Village Vanguard for Jazz (no one takes advantage of the great Jazz here). Mercury Lounge for bands. SOBs for Urban/Latin/Caribbean culture and Nublu for the electronic/DJ culture. RIP Wetlands, Coney Island High, Tonic, The Academy, and The Cooler. Each would have won out had they not been forced to close down.
Lindsay – For bands I'd say the Bowery Ballroom. But for other types of performances, I love BAM!
Best "deal" in the city?
Chris – Oh man, anything on FreeNYC! For real, I have seen so many unbelievable things for free that its hard to pick one (or remember them all). I'll go with the Celebrate Brooklyn series. They are at night in Prospect Park so it's easier then dealing with the 90º heat at Summerstage with much shorter beer lines. Plus, you get to see an amazingly diverse line-up on music for a $3 suggested donation (see above).
Lindsay – Honestly the entirety of the summer is the best deal in the city. Free concerts at Summerstage, Prospect Park Bandshell, McCarren Park and on the Piers. Then there are free movies outdoors at Bryant Park, Hudson River Park and Brooklyn Bridge Park. Check FreeNYC for all the summer calenders!
Find out what's free at www.freenyc.net
What is your favorite Free Activity in NYC?
Post a comment below and let us know what's funky and frugal.
around the blog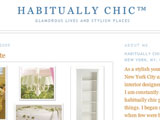 For the Habitually Chic Heather, inspiration and design are just two of the innumerable themes that can be found in abundance in both New York City as well as her blog.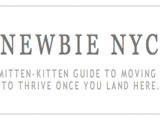 New to New York City? Unsure of how to start looking for an apartment? Curious about where you can start making friends? For many of these answers, you can turn to New York City newbie, Mary Hilton's blog. She made the move to the city from Washington D.C. a few years ago.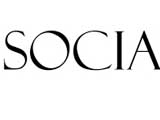 For those people who in High School just missed being voted the hippest, liveliest, or most fun person in the grade, there is now a new site for them to redeem their past social misfortunes.