around the blog
Pulp Sushi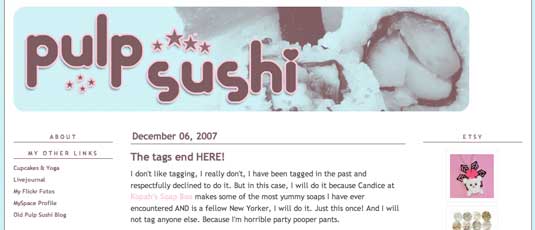 Hailing from the Bronx, Pulp Sushi creator and author Marilyn Perez writes a fun and whimsical blog filled with crafty creations. She's part of the hip Etsy community, an online marketplace for all things handmade, and dedicates many entries to praise worthy designs as well as her own latest projects. Pulp Sushi is a great place to find a unique last minute gift idea, insight into the crafting world, and general musings on the city from a born and bred New Yorker.
Here is what Marylin had to say about blogging in the city:
Tell us about your blog, what is the premise, what are your main coverage areas, how did you get started?
I am a blogaholic. I have had several personal websites over the years but I started Pulp Sushi in November 2006. I can't categorize my blog with one label: it's personal, it's advertisement for my Etsy shop (http://pulpsushi.etsy.com), it promotes other crafters and artists, and of course its an outlet of what is going on in the world and closer to home.
What brought you to New York?
I was born in the South Bronx and lived in the borough up until a couple of years ago when I moved to Westchester. I still work in the city (Midtown) and my family still lives here. No holiday traveling for me!
What do you love about living in New York?
There is so much at your fingertips! I admit that I do not take as much advantage as I should of all the shopping and art that is available. I love that it's very walker-friendly and easy to get around. I hate to be cliché and talk about the diversity but it's true, it does make this place very interesting and fascinating. There's always something new to discover.
What surprises you about New York or New Yorkers?
I learned this when I moved to Westchester. Westchester is not UPSTATE! Like a lot of city folk, I use to consider anything north of The Bronx "upstate". Little did I know that Lower Hudson Valley residents roll their eyes and snicker at those statements. It makes total sense, my commute time to Midtown is less than some folks who live in the outskirts of Brooklyn and Queens. Other than that, nothing else surprises me about New Yorkers.
When you leave New York, what do you miss the most?
Bagels, 24-hour public transportation, and stylish dressers.
Do you know any tricks or insider info?
Don't sit in front of a map on the subway, you're just asking for someone to invade your personal space by hovering over your head.
Best corny tourist attraction that you secretly love?
The South Street Seaport. The view is amazing and I can sit on those steps for hours. It also has a special place in my heart because it's right near my high school and I spent a lot of hooky time there.
Best neighborhood bar?
The Art Bar in the West Village, cozy!!!
What is the last cultural thing that you did?
I've been taking in a lot of art. Doing a lot of gallery hopping downtown and in Chelsea. I enjoy galleries like Jonathan Levine and Giant Robot. Places more geared toward Lowbrow Art.
Check out more of what Marilyn has to say at www.pulpsushi.typepad.com
Fatal error
: Uncaught Error: Call to undefined function is_tellafriend() in /home/yourcode/public_html/wp/wp-content/themes/ciyc/single.php:29 Stack trace: #0 /home/yourcode/public_html/wp/wp-includes/template-loader.php(74): include() #1 /home/yourcode/public_html/wp/wp-blog-header.php(19): require_once('/home/yourcode/...') #2 /home/yourcode/public_html/index.php(4): require('/home/yourcode/...') #3 {main} thrown in
/home/yourcode/public_html/wp/wp-content/themes/ciyc/single.php
on line
29