around the blog
The Winger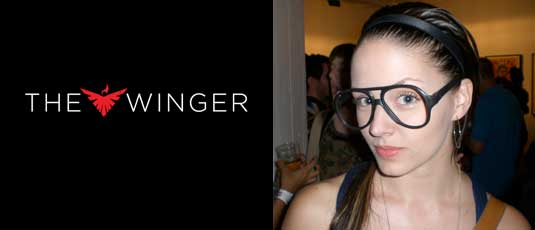 If you are involved in or are a fan of dance, you can get an inside look at the lives of these dedicated and astounding artists on The Winger. This blog was created by Kristin Sloan as a way to bring the dance community together, as well as to allow them to connect with the audience in a new way. After a series of hip injuries forced her to retire from her career as a ballet dancer, Kristin focused her interests in art, dance and technology and built a forum for dancers, choreographers, students, teachers, journalists and even medical professionals from all over the world. These contributors share their tales of training and performing, discuss performances they have seen, and talk about what their day to day lives are like. Kristin's goal is to encourage a dialogue that promotes dance as an artform and a lifestyle.
Kristin joined the New York City Ballet after leaving her native Boston and traveling the world studying ballet. We asked her about what life in NYC is like for her.
What brought you to New York?
I left Boston when I was 14 to come to New York and attend the School of American Ballet, the official school of New York City Ballet. I lived in their dormitory at Lincoln Center (also in the same building as the Juilliard dorms) with some other budding ballerinas, and moved into my own apartment – with my parents' help – a few years later. From the very first time I visited New York I knew I wanted to live here someday, but I had no idea I'd luck out and it would be so early on. Lincoln Center is a mecca for the performing arts, so to actually get to live and study there was a dream. I ended up performing there for many years as a dancer with the New York City Ballet. Now, 12 years later, I live downtown but still get to go there every day for my job as Director of New Media for NYCB.
What do you love about living in New York?
This sounds cliche, but there really is a special energy here… this feeling that if something new and interesting is happening, it's happening here. Even when you go on vacation for a week, there are new things when you come back. Things are always changing, moving, and evolving. It's a fun challenge trying to keep up, and even more fun trying to drive some of that change. New York is a living, breathing organism.
What do you think makes a New Yorker?
I think being a New Yorker involves constantly being aware of your surroundings – whether it's watching your back while walking down the street, trying to find the fastest route from A to B, or trying to take in and absorb all the incredible sites, sounds, and personalities. You're always dealing with sensory overload – perhaps that's why people here move so quickly, constantly moving on to the next new thing so we can experience as much as possible and stay ahead of any trouble.
What surprises you about New York or New Yorkers?
The diversity. It's not so much a surprise as it is an amazing feat – that so many people from all walks of life can live in relative harmony in 5 small boroughs. New York attracts and supports any and everybody, and it's something that makes the city as a whole feel so rich, vibrant, and full of potential.
When you leave New York, what do you miss the most?
I miss that feeling of knowing you're in the middle of it all. So much is right at your fingertips – some of the best art and culture… and the corner bodega.
Do you know any tricks or insider info?
That would take the fun out! There's a sense of ownership gained in the things you discover on your own – and there's almost always an interesting story involved.
Tell us about your blog… what is the premise, what are your main coverage areas, how did you get started?
I first started mobile photo-blogging (sending photos directly from my cell phone to a blog) in 2004, because I'm really into technology and was fascinated that such a thing was possible. After a few months I realized that instead of taking random pictures throughout the city, it might be interesting to turn the camera on my profession – on my daily life as a ballet dancer for the New York City Ballet. Friends were always confused about what it was I did all day, and I personally think the process and creation of art (as well as the artists) is as interesting as the final product, so I started The Winger. My boyfriend who has a branding and design company came up with the name and created a logo and basic design for me early on. Since then, the site has grown to include over 30 contributors from around the world, all sharing their personal stories, opinions, and process. There are dancers, choreographers, teachers, students, physicists, doctors… they all effect the dance world every day, and now have a means of communicating with their audiences as well as with each other.
Best corny tourist attraction that you secretly love?
The West Side Highway. I don't think it's really a tourist attraction on its own, but I think it could be. When I used to come back to the city from Boston, we'd drive down the Henry Hudson/West Side highway and it always meant that I was back! Nowadays, I commute on my motorcycle from Downtown to Lincoln Center, and when it's a beautiful clear day, the "sea" air is breezing past, and the sun is on your face, you really can't beat it. It's one of my favorite things.
Best neighborhood bar?
I like the little bar attached to Supper for wine, Spitzer's for beer, and Loreley for Baerenjaeger martinis and fried Camembert. Palais Royale has a great jukebox. They're all comfortable and low-key enough that it's easy to talk to your friends.
Best late night joint?
Marshall Stack for drinks, and Lil' Frankies for food when it's 1:00am and you realize you forgot to eat dinner. We often work late, so that happens a lot.
Last cultural thing that you did (movie, museum, theatre, etc…)?
Last night we went to our friend Amelie Chabannes' art opening at Luxe Gallery. Today we spent $40 on ingredients to make lunch – a different, but classic, NYC cultural experience.
Best fancy schmancy restaurant?
Anywhere with a great steak.
Best place to meet members of the opposite sex?
Probably not the ballet, unfortunately.
Best place to hear live music?
Carnegie Hall, Bowery Ballroom, Mercury Lounge, 55 bar…
Music has always been a huge inspiration to me. I had a period of about 3 and a half years that I was injured and unable to dance, and to fill that void I would go to hear live music as often as I could. New York provides such a wide variety of musical experiences of the highest caliber.
Best place to watch a dance performance?
Lincoln Center or Cedar Lake's performance space in Chelsea. It's intimate and puts you at eye level with the dancers which I think is a really interesting perspective, probably for both the audience and the dancers.
around the blog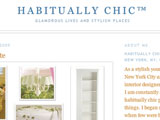 For the Habitually Chic Heather, inspiration and design are just two of the innumerable themes that can be found in abundance in both New York City as well as her blog.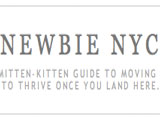 New to New York City? Unsure of how to start looking for an apartment? Curious about where you can start making friends? For many of these answers, you can turn to New York City newbie, Mary Hilton's blog. She made the move to the city from Washington D.C. a few years ago.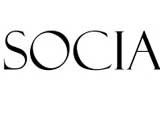 For those people who in High School just missed being voted the hippest, liveliest, or most fun person in the grade, there is now a new site for them to redeem their past social misfortunes.