local flavor
Water Taxi Beach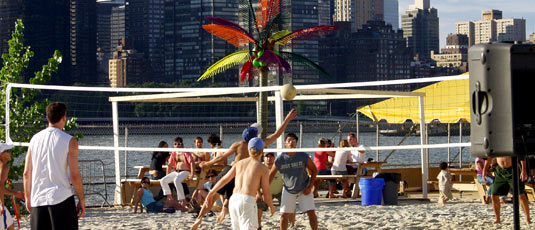 If you're not in the mood to battle highway traffic or suffer on a sweaty subway just for some seashells by the seashore, hitch a ride on the New York Water Taxi and head for Water Taxi Beach. This faux beach is the ultimate in urban sunning, with 400+ tons of Jersey Shore sand spread over 22,000 square feet, groomed and primed for your beach blankets and chairs. The former wharf is also dotted with volleyball nets, where barefoot pick up games happen all day long. Coolers aren't allowed, but you can grab staples like burgers, dogs and drinks at Harry's barbeque stand on site, then enjoy them on one of the many picnic tables. Families and singles alike flock to this oasis during the day, while DJ's and the 21-and-over crowd reign at night. Don't forget your SPF. The sun is a lot stronger when it's not blocked by skyscrapers.
02-03 Borden Avenue, Queens
www.watertaxibeach.com
Directions to Water Taxi Beach:
On New York Water Taxi:
Water Taxis depart from East 34th Street in midtown Manhattan to Hunter's Point Queens on a varied schedule. For schedules, visit www.nywatertaxi.com.
By Subway:
#7 Train to Vernon Avenue/Jackson. Walk along Vernon Avenue to Borden Avenue and turn right. Look for signs for Water Taxi Beach.
Bus:
B61 and Q103
Admission:
$3.00 cover charge on Fridays in July & August, $5.00 cover charge on Saturdays in July & August after 9pm. $25.00 admission charge July 4th all day.
EXTRA:

Interview With Harry Hawk, Chef and Manager of Water Taxi Beach
What is it like to work at the only man-made beach in New York City?
It's a lot of fun to come in every morning and watch the sky. We see Canadian geese with goslings, seagulls, other birds, helicopters, and planes. We're very much part of nature. New York is an island and most of the island residents are divorced from the water, so we really feel like we're part of the New York waterfront, and it's a magical experience.
What kind of void does a faux beach fill in a city notorious for having it all?
The sand allows people to be barefoot, which is a very kinesthetic kind of stimulus that you don't normally get. In a city where people don't have backyards and don't have roof gardens, we're part of the open outdoor space that's limited but available to New York City residents.
What's the best part about Water Taxi Beach?
The fact that we're on a wharf, with sand, facing Manahttan… that's what makes it truly spectacular. It's a luxury view. It's utterly stunning.
Fatal error
: Uncaught Error: Call to undefined function is_tellafriend() in /home/yourcode/public_html/wp/wp-content/themes/ciyc/single.php:29 Stack trace: #0 /home/yourcode/public_html/wp/wp-includes/template-loader.php(74): include() #1 /home/yourcode/public_html/wp/wp-blog-header.php(19): require_once('/home/yourcode/...') #2 /home/yourcode/public_html/index.php(4): require('/home/yourcode/...') #3 {main} thrown in
/home/yourcode/public_html/wp/wp-content/themes/ciyc/single.php
on line
29