local flavor
Superhero Supply
No matter which superhero is soaring through the stratosphere, rappelling down buildings, or running at ridiculous speeds, they all need outfits and accessories, and when they do, they come to the Brooklyn Superhero Supply Company. The storefront itself is fairly nondescript, while the name hints at the marvels to be found inside. "Antimatter" is a big seller, as is a can simply labeled, "Muscles." In the fictional universe of superheroes, secret doors and passageways always open to reveal mysterious lairs. But this is not just the stuff of fiction. Behind the shelves of the Superhero Supply Co. a writing and tutoring center looms, where real life heroics take place everyday. "The store and the tutoring/writing center are all a part of the non-profit organization 826NYC," explains Joan Kim, the center's Director of Education. "We offer after school tutoring, writing workshops, student publications, field trips, and in-school support." The store and center is the brainchild of writer, editor and former Park Slope resident, Dave Eggers. In business for nearly 2 years, it's modeled on a similar outfit in San Francisco, which dealt with commercial zoning regulations by opening up a pirate store as the "face" of a writing center. There are now 6 national chapters, each with its own theme. "The joke here is that if the sign just said 'Tutoring' they wouldn't come in. The store is a way of engaging them," says Kim, who notes that the store helps fund the tutoring programs. Sometimes kids wander in to try on a cape and discover the "hidden" center themselves. Brooklyn is a great place for the center because of its extensive writers community. Over 600 volunteers staff the programs and tutoring is not limited to writing skills but addresses the whole spectrum of homework subjects. The real life superheroes of the center are concerned not only with students' skills, but also in illustrating to them how much those skills matter. "One thing we really emphasize is Project Based Learning. When a student works really hard on a piece of writing, we feel strongly about publishing their work," says Kim. "Publications such as the 826 NYC Review give the students proof that their voices and what they're saying means something." Next time you're in Park Slope, stop in and witness the amazing feats performed daily at the Superhero Supply Company. You can pick up an invisibility tracking device, and spend some quality one on one time with a few superheroes in training.
Superhero Supply Company
372 5th Avenue
www.826nyc.com
local flavor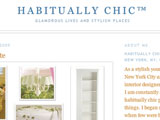 For the Habitually Chic Heather, inspiration and design are just two of the innumerable themes that can be found in abundance in both New York City as well as her blog.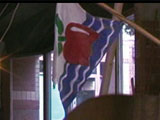 In the warmer weather months when the sun is beating down on the New York City pavement and your body is being cooked from all angles, it is often difficult to remember that Manhattan is an island with easily accessible bodies of water.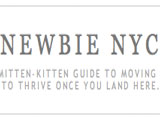 New to New York City? Unsure of how to start looking for an apartment? Curious about where you can start making friends? For many of these answers, you can turn to New York City newbie, Mary Hilton's blog. She made the move to the city from Washington D.C. a few years ago.