code words
Code Words: NYC Food Guy
In New York City, the stomach rules. Day or night, you can find culinary delights from every corner of the world and in every price range. Thankfully, the NYC Food Guy can help you savor every bite. Lawrence is a native New Yorker whose goal is to let people know where to find delicious and affordable food throughout the city. His Code Words column does just that with reviews, tips and tricks that will keep you sated.
Rack and Soul: Great Fried Chicken & Ribs at Affordable Prices
Rack and Soul is a great place to get your authentic soul food fix without traveling to Harlem. If that's not reason enough, fried chicken luminary Charles Gabriel is a consulting partner at this diner-style restaurant. Mr. Gabriel's serves his food buffet style at Charles' Southern Style Kitchen on 151st Street, but those less adventurous can find crispy and moist fried chicken, sitcky, sweet, smoky and tender baby back ribs, sugary candied yams, and crisp shoestring french fries without straying too far from the 1 train. And yes, they also serve waffles.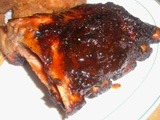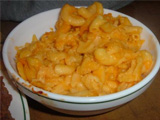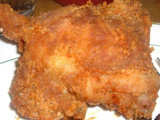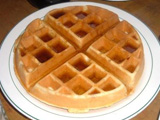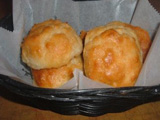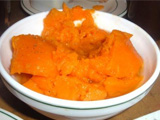 $15.95 at lunchtime ($19.95 at dinner), for your choice of 2 entrees and two sides.
You can choose from:
• Quarter Rack of Baby Back Ribs
• Pulled Pork
• 3 BBQ Chicken Wings
• 2 Pieces of Fried Chicken of your choice
and for sides:
• Broccoli
• Asparagus
• Collard Greens
• String Beans
• Black Eyed Peas
• Lima Beans
• Baked Beans
• Cole Slaw
• Stewed Okra
• Macaroni and Cheese
• Candied Yams
• White Rice
• Mashed Potatoes
• French Fries
• Potato Salad
• Belgian Waffle
For help deciding, I'll point you in the right direction. I went with the Ribs, a thigh, a drumstick, candied yams, and fries.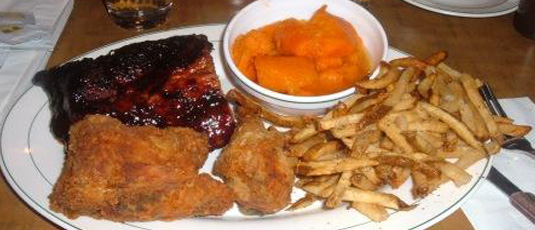 Here's the NYC Food Guy rib review:
The overall flavor was sweet and smoky but the flavor of the pork really shone through. If you like to taste the meat of the ribs, don't add extra sauce, but if you want to unite the outer flavor with the pork, add some extra sauce. They were tender and moist but didn't fall right off the bone. The outer skin was a little tighter and crisper than I like. The Fried Chicken was good overall but while I admit my expectations were high, it was not a transcendent experience. The outer coating was crispy and light without being overly greasy. The coating, however, was nothing out of the ordinary. It didn't seem to be a product of extra care or a unique process. The meat inside was moist, tender, and flavorful.
Here's the rest of the meal:
Sweet Candied Yams – very sweet, soft, and delicious

Macaroni & Cheese – It really was this orange and it was pretty soggy and boring. Always an enticing option, it fell flat.
Waffle with Syrup – my first Waffle and chicken experience was boring at best. The waffle and syrup were generic and ordinary.
French Fries – Shoestring, crispy, and hot. I added some salt and pepper and found myself reaching onto King of Ketchup's plate for more after I finished mine. Great fries.
Honey Biscuits – These are complementary and served upon arrival. They were warm and tasty. We asked for butter and dipped it in the sweet barbecue sauce. Good move.
Overall, I had a great meal at Rack and Soul. It was fresh, affordable, and big portioned. The service was attentive and I will definitely return to try the pulled pork.
Rack & Soul
2818 Broadway
www.rackandsoul.com
To check out more adventures from the NYC Food Guy go to www.nycfoodguy.com
Where do you go for the best comfort food in New York?
post a comment below and give us some lip on your zip!

code words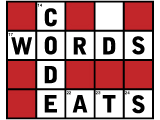 In this "burger obssessed age", where beef on a bun is the restaurant industry's lone recession-proof dish, NYC Food Guy is here to shed some light on three burgers that are a break from the normal fare.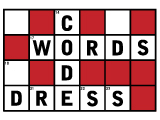 Being a bargain hunter, with a taste for the finer things in life, is no less than a full time job; and most New Yorkers just can't find the time in their already hectic lives. So what's a thrifty shopper to do? Rely on the Guerilla Shopper – that's what!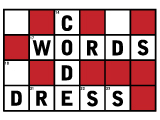 Want to look like a million bucks without spending anywhere near that? Who doesn't? The Guerilla Shopper has mastered the fine art of finding a great deal.