bar code
Second on Second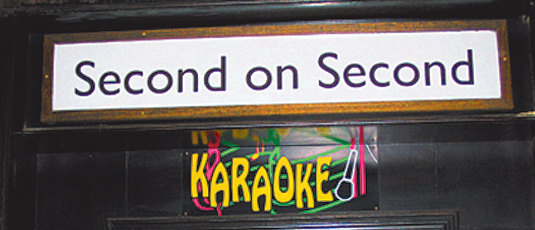 If singing in front of a crowd of strangers sounds as agonizing as that dream where you show up to work naked, rent out your own karaoke room at Second on Second karaoke bar and restaurant. Four private, karaoke- ready rooms are available for $60- $100 an hour, and can pack in up to 40 of your closest friends. With over 30,000 songs to choose from in 8 different languages, there will be enough power ballads to go around.
Check out their Open Mic Live Karaoke night with a live MC every night starting at 9pm.
Second on Second
27 2nd Avenue,10003
www.2ndon2nd.com
What's your favorite song to rock out to?
Post a comment below and let us know where you go to belt it out!
Fatal error
: Uncaught Error: Call to undefined function is_tellafriend() in /home/yourcode/public_html/wp/wp-content/themes/ciyc/single.php:29 Stack trace: #0 /home/yourcode/public_html/wp/wp-includes/template-loader.php(74): include() #1 /home/yourcode/public_html/wp/wp-blog-header.php(19): require_once('/home/yourcode/...') #2 /home/yourcode/public_html/index.php(4): require('/home/yourcode/...') #3 {main} thrown in
/home/yourcode/public_html/wp/wp-content/themes/ciyc/single.php
on line
29