around the blog
Adam's World
When Around the Blog debuted in December 2007, Adam's World was the first blog to be profiled. Adam has been unstoppable ever since. Between his aptitude for discovering artists just before they make it big, and his innate knack for self-promotion, the sky's the limit for this bounteous blogger. We thought it was a good time to check in with Adam and get the scoop from the man who's got the whole world in his hands.
What has been going on in Adam's World since we last spoke? Tons. It's been non-stop. One of the biggest revelations is that a handful of my former Artists Of The Week have landed on various MTV channels. Substantial's video for It's You (I Think) earned a spot in rotation on MTV2's Sucka Free, Rabbi Darkside was a coach on Made, Seme Rock made a brief cameo on that same episode of Made, and Rue Melo's This Is My House just premiered on mtvU on July 21st. Rabbi D has dubbed my endorsement "The Adam B Midas Touch." I'm just really proud that my people are doing big things.
You've always been on the cutting edge of exposing new artists. What expansions has your blog seen? New features or recurring columns?
I've actually added a handful of new features to the site this year including a few monthly columns that people have been loving. There's From A to B 90's Style where I go back and forth talking about 90's music videos with my good friend, and fellow journalist, Bear Frazer. I also have The Vibe Report, where I give a monthly wrap up of the things I felt were important from the month that was, and my most recent addition to the site, Tales From The Discount Bin, which is a monthly look at the interesting entertainment related things I find in discount bins and dollar stores.
What about the rest of your empire?
When it comes to other media, I now have Adam B TV in full swing, which features video clips from both my radio show and my various travels in the music world, and I've also started uploading sections of my radio show, The Adam B Experience, making them available for both stream and download on Adam's World. After the awesome feature here back in December quite a few other media outlets have taken notice of Adam's World. The New York Times has linked to me and one of their writers recently contacted me to interview me for a story he's putting together on bloggers. Fairfield Magazine did a two page feature on me a few months back and I received a nice mention in Beyond Race magazine, as well. Finally, Gawker got on the Adam Bernard bandwagon for a quick second, although it wasn't in the most flattering of ways. I looked at it as a positive, though. Hey, at least they know my name, right?
Obviously, getting the New York Times to link to your blog is a massive coup. Who else has approached you after reading Adam's World ?
One really interesting door that was opened to me thanks to Adam's World was at Jive Records when they asked me to help them start up Usher's blog. It ended up just a one month project, but I can definitely see it leading to others. The Usher gig led me to realize quite a few important people are frequenting my site. This was reiterated even more so when I wrote a story about how we need to stop focusing on first week album sales. Not only was that article, First Week Phonies, syndicated by a number of other websites, including at least one indie label site, one of the top marketing people at a major label sent me an email telling me how much he enjoyed it. How amazing is that?
How do you go about drawing new readers to your site?
I have actually become a pretty fantastic shameless self-promoter. I just had t-shirts printed up that I'm giving to the artists I work with. The front says "I'm a B-Lister" and the back says "are you down with Adam B?" with my blog's address underneath. Since Adam B is my radio name, "B-Listers" is the tag I've given to the awesome people who love my show and what I do. So far the shirts have been a hit. Look for them on your favorite artists!
What would you say to a new writer looking to gather clips or simply share ideas?
I have been spreading the blogging word. In fact, I spoke at two high school journalism classes in Stamford, CT, earlier this year and one of the biggest things I tried to stress to the students was that thanks to blogging they can start writing now and hone their voice sooner rather than later. I'm looking forward to going back and speaking to them again to let them know about all the doors my own blog has opened for me, many of which have been completely unexpected.
What's next for Adam B?
I honestly have no idea what the next year holds, but whenever a new opportunity presents itself you can be sure I'm going to explore it.
Have you discovered the next big thing?
Post a comment below and let us know all about it!
around the blog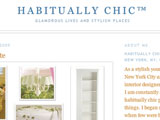 For the Habitually Chic Heather, inspiration and design are just two of the innumerable themes that can be found in abundance in both New York City as well as her blog.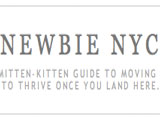 New to New York City? Unsure of how to start looking for an apartment? Curious about where you can start making friends? For many of these answers, you can turn to New York City newbie, Mary Hilton's blog. She made the move to the city from Washington D.C. a few years ago.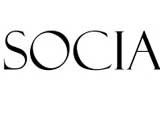 For those people who in High School just missed being voted the hippest, liveliest, or most fun person in the grade, there is now a new site for them to redeem their past social misfortunes.