around the blog
The Organic Beauty Expert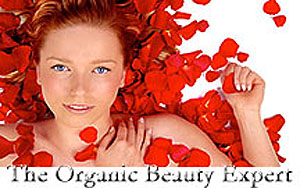 Andrea Kane is not your typical "Earth Mother," though she does possess a great reverence for Mother Earth. In addition to being a military veteran, a doula, and a massage therapist, Andrea has experience as a PR expert and teacher. While she currently resides on the West Coast, her stint in the Big Apple has taught her all about the good, the bad, and the tricky of navigating the organic product world. Now she's here to share all the natural knowledge she's amassed along the way.
Tell us about your blog: what is the premise, what are your main coverage
areas, how did you get started? This blog was started September of 2006 after I closed my online natural body care store. During the move from Hawaii to San Diego, I considered many career options. While trying to figure it all out, The Organic Beauty Expert was born.
I never intended for this blog to continue, but am so glad it has. I named it The Organic Beauty Expert because I thought it was a catchy name that people could remember. The blog has grown as I have grown, and have learned more about the beauty industry. I have taught classes on making natural products and aromatherapy at The Learning Annex and The University of Hawaii, and for many corporate groups. I worked as a beauty consultant for start up beauty companies and still create signature scents.
This blog doesn't push rhetoric and you won't find the same ol' "we must protect the earth" mantra. I try to use as many natural based products as possible, but when it comes down to it, efficiency is the word of the day. And if you can't respect or understand that honesty, this ain't the blog for ya!
You are from New York, and now live in San Diego. Do you think that New Yorkers are embracing the organic beauty wave as heartily as West Coasters have been?
Most definitely! In fact, New York is where I received my green education. In the early 90s living in Park Slope, I knew nothing about recycling or co-ops or eating well. New York has always been the spot for making the trends, whatever they may be, and in this case, they've added being green with style.
What do you miss most about living in New York?
I miss the ability to eat any type of ethnic food whenever the mood hits. I miss the energy most of all. My poetry and free style writing was so raw when I lived in the city. Lastly, I miss the museums and the art of living in NYC.
Where do you find daily inspiration?
Daily inspiration now comes from within. There's not a lot of outside stimulus living next to the beach, but one makes do.
If you were stranded on an island (like Manhattan), which natural beauty products would you absolutely have to have?
Only one… most definitely the Blueberry Fusion face scrub from The Body Deli. It's simply divine and a girl can't be rescued and have splotchy skin!
When navigating the sea of "organic", "natural", or "Earth-friendly" products available today, how do you determine what is a legit product and what is simply clever marketing?
At the end of the day, it takes reading the ingredient lists. Many companies who sell online have taken to promoting the "active ingredients", which many times focus on the two or three only natural ingredients within a sea of crap.
Best natural home remedies?
Tea tree essential oils and rosemary. Perhaps some lavender. That covers germs, cleaning, room sprays, diaper rash, bites, minor burns and even fresh breath.
Living a "green" life can be pricey. What are the most worthwhile splurges?
For me, organic beauty products and fruits. Skin care products have been shown to soak into the skin so I'd rather that stuff be as pure as possible. Fruits with edible skin also have to be organic in this house. Again, I'm not really fond of eating pesticides.
Favorite NYC organic/natural restaurants or shops?
I love Angelica Kitchen for veggie food on the cheaper side. Pure Food and Wine is wonderful too, though a bit pricier. Also, for organic groceries, Westerly Natural Foods and Elm Health Foods are great.
Strangest "natural" product you've come across while writing for OBE?
The strangest was a face cream made with amniotic fluid. I don't think I need to explain further.
Last cultural thing that you did (movie, museum, theatre, etc…)
Went to a reading of The Vagina Monologues. With a business, husband and two kids, culture takes a back seat!
Tips for balancing being Earth friendly while not becoming completely anti-society?
Just doing what fits into your lifestyle and budget. I'm not pro-environment so much as I am objective sensible choices. Many green folks work from guilt to sell their products. I take a knowledge stance. Do the green thing when it fits your budget and because you want to.
Best green vacation spot?
Hawaii, of course!
Anything you'd like to add?
Organic doesn't always mean better. Sometimes I see people pushing organic as a way to boost the price times five. Clothing, jewelry… I'm into it if it doesn't mean I have to take out a loan.
www.theorganicbeautyexpert.typepad.com
Where Do You Go To Get Your Natural New York Fix?
Post A Comment Below And Tell Us About The Green Scene.
around the blog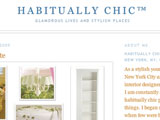 For the Habitually Chic Heather, inspiration and design are just two of the innumerable themes that can be found in abundance in both New York City as well as her blog.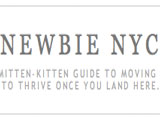 New to New York City? Unsure of how to start looking for an apartment? Curious about where you can start making friends? For many of these answers, you can turn to New York City newbie, Mary Hilton's blog. She made the move to the city from Washington D.C. a few years ago.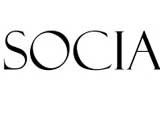 For those people who in High School just missed being voted the hippest, liveliest, or most fun person in the grade, there is now a new site for them to redeem their past social misfortunes.