local flavor
Comic Strip Live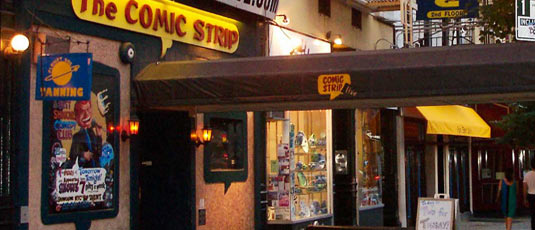 Comic Strip Live brings big laughs to a quiet block on the Upper East Side. While most other comedy clubs thrive downtown, CSL has been standing strong since 1975. Household names such as Jerry Seinfeld, Eddie Murphy and Adam Sandler got their start on this stage, as have a slew of other stand-up comics, whose headshots fill every inch of the entrance hall. Or, if you're up for discovering no-name talent, make a reservation for a showcase night. Aspiring funny guys and gals from across the nation flock to hone their skills here. You could discover the next Colin Quinn. Expect a cover charge and a two drink minimum at all shows (this is standard for New York clubs). The cabaret-style seating packs in patrons tight, so we recommend bringing a group that you wouldn't mind rubbing elbows with.
1568 Second Avenue, between 81st and 82nd Streets, 10028
www.comicstriplive.com
New York Comedy Clubs
For a night of eye-tearing laughter, grab your waterproof mascara and make a reservation at one of these comedy clubs!
Sal's Comedy Hole
You'll know you're in the Village after hearing the raw, rebellious and uncensored acts of local New York comedians. Not recommended for minors.
89 MacDougal Street, 10012
www.salscomedyhole.com
Laugh Lounge
With an upstairs lounge and a downstairs stage, this place is laid-back and reminiscent of Vaudeville days. Chappelle's Show and Premium Blend comics love this place.
151 Essex Street, 10002
www.laughloungenyc.com
Comedy Cellar
This place feels underground because it practically is. Dave Attell, Colin Quinn and a slew of other well-known funny guys and gals grace the line-up.
117 MacDougal Street, 10012
www.comedycellar.com
Stand-Up NY
This small club will give you huge laughs. Chris Rock makes surprise appearances here when he's working on a new routine.
236 W 78th Street, 10024
www.standupny.com
Comix Comedy Club
Comix induces side-splitting laughter with marquee names like Chuck Nice and Alex Borstein. Variety, improv and sketch shows also dot the line-up.
www.comixny.com
Fatal error
: Uncaught Error: Call to undefined function is_tellafriend() in /home/yourcode/public_html/wp/wp-content/themes/ciyc/single.php:29 Stack trace: #0 /home/yourcode/public_html/wp/wp-includes/template-loader.php(74): include() #1 /home/yourcode/public_html/wp/wp-blog-header.php(19): require_once('/home/yourcode/...') #2 /home/yourcode/public_html/index.php(4): require('/home/yourcode/...') #3 {main} thrown in
/home/yourcode/public_html/wp/wp-content/themes/ciyc/single.php
on line
29