around the blog
Altamira

AltaMira creator Craig Arend was inspired to create his fashion/photo journalism hybrid blog on a Paris vacation in 2006. He started by shooting candids of fashionable Parisians and then progressed to asking them to pose on the street and show off their style. With street fashion fast legitimizing itself as a solid reference for high fashion magazines, runways, and designers, the time was right to organize his portfolio. And thus Altamira was born.
Tell us about your blog and how you got started? My blog is a street fashion photo blog first and foremost. It documents people who wear their clothes with a unique sense of style, a couture sense of fashion, and an aura of self-confidence. I capture the middle ground: the balance between a Parisian fashion sophisticate wearing Lanvin and Chanel pieces to someone wearing a self-created pair of knicker pants they rescued from a dumpster.
The name AltaMira comes from the caves in Spain. The paintings in the caves have inspired people for decades, Picasso included. When literally translated to English, the phrase means "high view". In my blog's case, that means "high view" of the streets. In the same way that the caves were crowned a UNESCO Heritage Site, I hope to someday achieve equally great recognition in the photography and fashion communities.
What brought you to New York?
A childhood dream. I remember when I was young my family would take vacations and drive across the States. Before we'd go, we'd shop at bookstores for books on where we were going. I would always gravitate to the books on New York City. To this day I can still see in my mind's eye the Berlitz travel guide to New York City, in its glossy cover, with the skyline in the foreground.
What do you love about living in New York?
New York has something for everyone if you know where to look. It epitomizes convenience by condensing into one tiny geographic pin point.
What do you think makes a New Yorker?
I view the city like a garden/gardener relationship. A New Yorker is someone who allows the gardener (the city and all the challenges and greatness it has to offer) to cultivate, water, and pull the weeds out of the garden (the person). If you allow New York City to make you a better person, then you are a New Yorker.
Best tips, tricks or insider info?
My best tip is actually non-fashion related. If you show up at Mario Battali's Babbo before it opens, you can get a table when they open the door without waiting weeks to exercise your reservation.
Best kept secret in neighborhood fashion boutiques?
For women, the shoe boutique, Girls Love Shoes. It's on Ludlow and Hester and they stock hundreds of vintage shoes from the 1930's to the early 1990's.
Best area or neighborhood for fashion steals?
Nolita
Best way to spot a trend?
When certain articles of clothing repeat themselves over and over again, either on the runway, the press, or the streets, a trend is forming. From the Fall/ Winter 08/09 collections, Chloe, Lanvin, Balenciaga, and Lanvin all styled their models in pointy toed stilettos–that's a trend to watch for.
Best high end shoes? Best place to find reasonable knock offs, of said shoes?
The quality craftsmanship of a Louboutin. The knock off version from Nine West.
What Street Styles Have Stopped You In Your Tracks?
Post A Comment And Let Us Know!
around the blog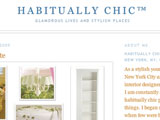 For the Habitually Chic Heather, inspiration and design are just two of the innumerable themes that can be found in abundance in both New York City as well as her blog.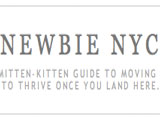 New to New York City? Unsure of how to start looking for an apartment? Curious about where you can start making friends? For many of these answers, you can turn to New York City newbie, Mary Hilton's blog. She made the move to the city from Washington D.C. a few years ago.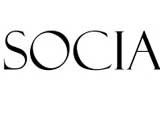 For those people who in High School just missed being voted the hippest, liveliest, or most fun person in the grade, there is now a new site for them to redeem their past social misfortunes.