code words
Bridal Best Bets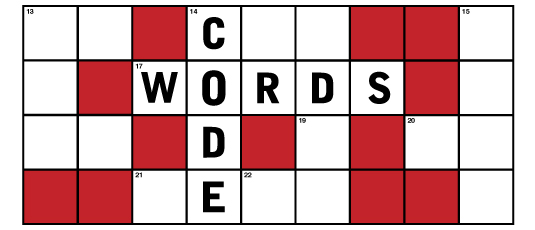 You did it. You said "Yes!" Now save those tears of joy for the real drama known as "Wedding Planning." Relax, relate, and release – because CiNYC has got your back like a yogi helping you with a headstand. Below are a few tips that can keep you from picking up bad habits, like nail biting. Carry this checklist around as you don a fab pair of shades, because – just like the bling on your ring – your future nuptials are looking bright!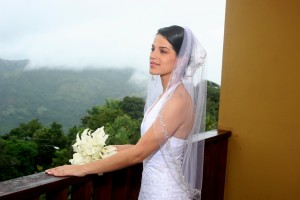 The Invitations: Paper Presentation
Nothing short of amazing, this store in 10011 offers an array of papers, stickers, ribbons, and colors to please any discerning bride-to-be. The helpful staff works with you to achieve that oh-so-right shade of gold-toned dark espresso on your invites. The artist in you can choose from a wonderful selection of scored, or already folded, paper.
23 West 18th Street
212-463-7035
www.paperpresentation.com
The Dress: RK Bridal
Seemingly the mother of all stresses is what to wear. One place to start is RK Bridal in 10018, which boasts a myriad of gowns from many designers with competitive prices. Make sure to schedule your final fitting no later and no sooner than 1 1/2 weeks before the wedding. Depending on how you handle stress, you might lose or gain weight, especially the week of the wedding!

318 West 39th Street
212-947-1155
www.rkbridal.com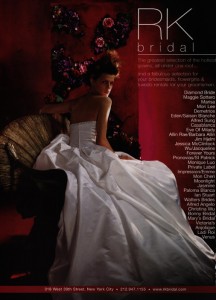 The Shoes: My Glass Slipper
Look at those fancy feet! The bridal shoes here in this 10010 gem range from $35 to $350 – available in no, low, and high heels in white or ivory. The staff is very patient and helpful, so go ahead and feel like Cinderella as you try on the shoe that is meant for you.
20 West 22nd Street, #614
212-627-0231
www.myglassslipper.com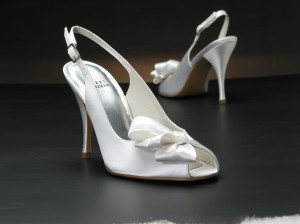 Just got married, now what do I with these shoes? : You've broken them in, you've had a few special hours with them, why not keep them around like you did your new husband. Go to T.O. Dey and have them dyed. They do a fantastic job. Fabric shoes can be matched to pretty much any color you want ($30 more or less).
9 E. 38th St., Seventh fl., 10016
212-683-6300
The Food: Real Food Catering
If you think nourishing an oversized bloodthirsty plant in Little Shop of Horrors is difficult, try feeding an army of family and friends with dietary restrictions ranging from raw food to raw cow. Please don't make them hangry (hangry = hungry + angry). The folks at Real Food Catering in 10012 will make it simple. Just tell them what you need and they'll make it happen.
180 Thompson Street, Ste. 5B
212-475-6623
www.realfoodcatering.net


The Cake: Cakes by Mona
I want my cake and eat it too! And eat it you shall. Delicious and inexpensive Cakes by Mona will be the icing on the party. Each cake is made specifically to your taste, be it vegan or eggless cakes, the wide array of original cake fillings like mango or strawberry mousse and Tiramisu all made from scratch, or the totally original creations like her golden mango cheesecake and carrot-apple pie. Plus, if your taste fancies traditional Indian desserts, then you will find that Mona's Gulab Jamun and Rasmalai, among others, taste and feel just as they were intended.
Contact: Mona Sokhi
2945 Hempstead Turnpike
Levittown, New York 11756
(By Appointment Only)
(631) 742-1883
www.cakesbymona.com
mona@cakesbymona.com


The First Dance: DJ David Medina
If you want your guests to get down and shake that thang, ring DJ Medina's bell. This talented Brooklyn-raised DJ will play whatever you want, including Latin or world music beats.
718-541-7070
www.djmedina.net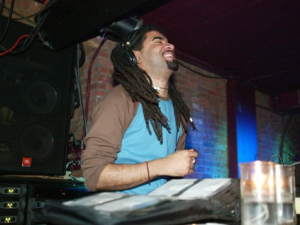 Havana beats on the Hudson: If you happen to be looking for a live band playing old school Cuban tunes Jose Conde is the one who can bring some tropical love to your wedding.
PiPiKi Records
718-230-8140
jlc3d@aol.com
www.olafresca.com
The Photographer: Henry Shoots
A picture is worth a thousand words: Or a couple of thousand bucks if you want it done right. If you are looking to save these memories for a lifetime check out Henry Shoots. For $4,400 he shoots in a photojournalistic and unobtrusive manner which makes for some wonderful shots. The price includes 500+ photos in a super duper proofbook, or the same photos in 4×6 prints in a leather box, the same 500+ hi resolution color JPGs for you to keep and an online gallery for friends and family to view and purchase prints. He can also do destination weddings!
www.henryshoots.com
qs@henryshoots.com
The Locations:
Here are three riverside locations for some real New York memories. Pier Sixty in Chelsea can accommodate up to 1,200 people with 18-foot high ceilings and incredible views of the Hudson River. The Lighthouse can hold from 100 – 700 guests has wrap around windows and a feel of historic New York City with it's period lanterns and old school hard wood floors. Finally, the Sunset Terrace at Chelsea Piers, New York's high octane sports complex, is a glass enclosed space with gorgeous sunsets, views of the river and can hold up to 350 people.
Pier Sixty at 23rd Street
212-336-6144
www.piersixty.com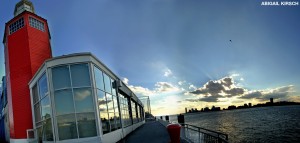 Your home is your castle…and why not your wedding venue? : Admit it, ever since you were squeezing your earrings like Jem and the Holograms summoning your synthesized "fairy" godmother and hugging your My Little Pony you wanted My Little Castle. Well, abracadabra here you go: The Castle on the Hudson sits majestically overlooking the Hudson River on sprawling acres of manicured gardens and grounds. With over 100 years of history this place rocks! They even have their own coat of arms. The Castle has luxurious guestrooms, suites with wood burning fireplaces, gorgeous event spaces, sumptuous food (if you give them the recipe, they can make ethnic dishes to your taste) and impeccable service. Just take Metro North to Tarrytown (about 45 minutes from Grand Central).
Castle on the Hudson
400 Benedict Avenue
Tarrytown, NY 10591
Toll Free: 1 800 616-4487
Telephone: 914 631-1980
www.castleonthehudson.com

Going Green: There are tons of bucolic settings in Central Park for your ceremony: The Pond, Cherry Hill, Bow Bridge, Shakespeare Garden, the Mall, Hernshead, the Pool, and the Harlem Meer. Permits are required for these and other areas of Central Park and there is a fee. If you prefer, CentralPark.com's wedding planning team can take care of some, or all, of the details for you. They can coordinate with you and completely orchestrate all the details of your wedding day. For the party animal in you (including your fiancé's frat friends) consider one of the event spaces at the Central Park Zoo for your reception. It's quite lovely at night…and if anyone acts up, just feed 'em to the bears.
Central Park
Special Events & Permits Office of the NYC Department of Parks & Recreation
212-408-0226
www.centralpark.com (click on General Info)
Take it to the bridge! : Manhattan bridge, that is. Pochron Studios offers a 1900 square foot penthouse loft in the historic DUMBO area of Brooklyn. You have an awesome view of the New York skyline, the Manhattan bridge, and the river thanks to their 1200 sq foot wooden deck. There is also a makeup and styling area, modern kitchen / kitchenette on premises, executive style bathroom facilities and parking and freight services. Their in-house event coordinator can put you in contact with multiple vendors.
Pochron Studios
20 Jay Street, 11201
(718) 237-1332
www.pochronstudios.com
Time to get my hair did!
If what to do with your hair is making it stand on end try one of these three places: Terry at Circa Salon can make you into a classic beauty on that special day. Plus she's coiffed big names such as Beyoncé making her irreplaceable. James Corbett is another fabulous option. He has done his magic on soap star celebs and red carpet events. Finally, if you are a curly girly and want to go au natural go to Ouidad, the mecca for my mane. Tell them what you want, go to their salon and see which stylist you like, they are all wonderful!
Circa Salon
(212) 765-7671
James Corbett Studio
32 Union Square East Suite 311, 10003
212-388-1296
www.jamescorbett.net
Ouidad
37 West 57th Street, 4th Fl, 10019
212-888-3288
www.ouidad.com
It's all you: It's the big day and time to give yourself some love. Get those knots out of your tense body and treat yourself to a sumptuous massage at Oasis Day Spa. They'll rub you the right way.
One Park Avenue, 10016
150 East 34th Street, 10016
212-254-7722
www.oasisdayspanyc.com
If Mommy and Daddy are footing the bill or if, like Fergie, you live the glamorous life, head on over to Saks Fifth Avenue for some gorgeous bridal dress finds. Ask for Carmella and she'll help you out every step of the way.
611 Fifth Avenue, 10022
212-940-2269
All, Hail the Queen(s): For the more budget conscience you may want to take the R train to Northern Boulevard and head on out to Queens and check out Michaels. Great and fun selection of ribbons, rubber stamps, stickers, paper and D-I-Y or G-I-D-I-F-Y (Gimme, I'll Do It For You) invites.
5106 Northern Blvd, 11377
718-371-0480
www.michaels.com
One, two, three, smile…or not: What to do with them perlys? Well, you could do the whole strips thing and talk as if you have a severe lisp or check out Brite Smile's whitening pens ($29.95). If you've got Austin Powers chompers then you may want to look into going for the full whitening treatment ($500 more or less). Check on-line for deep discounts.
Psst, We're Gettin' Hitched: Ahh, the "Save the Date" Announcements. You can get pretty creative and frugal with this one. At a photo booth you get a strip with four pictures (about $3). You and your loved one can take fun pictures with four different hand written signs for "Save", "the", "Date" and a fourth sign with the actual date. Make copies of it at any Kinkos on photo paper, glue on a little piece of magnet (available at any hardware store) to the back of each one and now you have a unique Save the Date for folks to place on their fridge. It's even better if you do it in black and white. The following website lets you know of a bunch of cool bars and shopping areas in New York City where there are photobooths: www.photobooth.net
So Good Sorbet! : Based in Brooklyn, Wine Cellar Sorbets produces the finest quality sorbets made from finished wines from around the world. Seriously, this stuff is delicious and makes for a great dessert. Their flavors are based on the vintages, varietals and viticulture regions from where the wines were produced. So each flavor is unique. They preserve as much of the wine's unique qualities as possible by adding minimal amounts of non-wine ingredients. Some of their selections include: Champagne, Sangria Rojo, Riesling, Pinot Noir, Rose and Cabernet Sauvignon. A 12 pack of 1 pint sized sorbets come out to $146 (includes shipping and handing). The guys there can give your great pairing ideas.
718-383-8308
www.winecellarsorbets.com
Check out my visit to Wine Cellar Sorbets here!
Don't Wine! : So your caterer is trying to charge you and arm and some toes for the liquor? Just go and get your own wine and champagne in bulk at CostCo, save some cash, hand it over…and tell them to use it "or you swim with the fishes."
32-50 Vernon Boulevard, 11106
976 3rd Avenue, 11232
www.costco.com
Some words of wisdom gathered from several brides:
-In order to truly relax right before going down the aisle, have a glass of wine (or a shot of tequila, if you hang like that). Preferably a clear alcohol beverage so you don't stain your teeth (or your dress). Then have a strong breath mint please.
-Stop delegating! There is nothing more distasteful than seeing a bride at the alter pointing with a French manicured finger and looking pissed off because the flower girl is not sitting where she is supposed to (true story).
-Have a blast at your reception. It's you and your future spouse's party and you guys will be the center of attention. Everyone will take their cue from you. If you have fun and enjoy it, so will everyone else.
-Accept the fact that you won't be able to please everybody all of the time and your life will be much easier. You can bet that someone will have something positive and something negative to say (the music was great, the chicken was eh).
-Be flexible. It is guaranteed that something will not go as planned during your wedding. Whether the DJ all of a sudden tells you he doesn't have your song for your first dance or whether your drunk Uncle Charlie manages to grab the mic and say a "few" slurred words, you have to just roll with it.
What are your best bridal tips? Post a comment below!
code words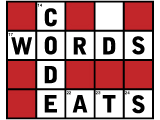 In this "burger obssessed age", where beef on a bun is the restaurant industry's lone recession-proof dish, NYC Food Guy is here to shed some light on three burgers that are a break from the normal fare.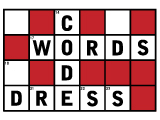 Being a bargain hunter, with a taste for the finer things in life, is no less than a full time job; and most New Yorkers just can't find the time in their already hectic lives. So what's a thrifty shopper to do? Rely on the Guerilla Shopper – that's what!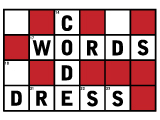 Want to look like a million bucks without spending anywhere near that? Who doesn't? The Guerilla Shopper has mastered the fine art of finding a great deal.