cool eats
The Lobster Place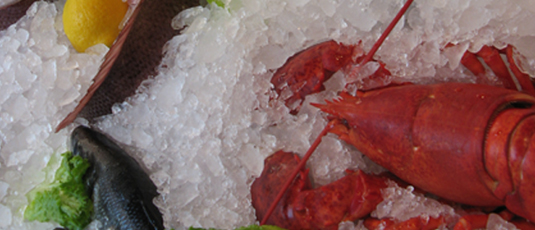 The best fish is fresh fish and The Lobster Place goes to great lengths to deliver goods still dripping from the sea. 70% of their product comes direct from the source, as with the store's namesake, which they bring from Maine and Canada. They provide a large variety of gilled friends to chefs and restaurants so their stores are often stocked with rarities such as blue marlin from Hawaii and pink snapper from Australia. The only thing fishy about The Lobster Place is the fish themselves.
436 West 16th Street, between 10th and 11th Avenues
EXTRA:
How To Eat Lobster
1. Make sure your lobster is fully cooked… this isn't going to work if the little critter is still squirming.
2. Then, separate the tail section from the rest of the body. This can get a little messy, so make sure you're doing it over a bowl, and that you have plenty of napkins or moist towelettes on deck.
The Separation:
Hold the tail in one hand and the body in the other.
Firmly bend the two sections toward each other, across the lobster's back.
Place the body in the bowl.
3. Now hold the tail over the plate, and pull the fins off.
4. Wrap your fingers around the shell tightly, and leave the lobster meat exposed on both ends.
5. Poke the fork tines into the end of the tail, where you pulled the fins off.
6.The meat of the lobster tail will pop out onto the plate from the large exposed end.
Fatal error
: Uncaught Error: Call to undefined function is_tellafriend() in /home/yourcode/public_html/wp/wp-content/themes/ciyc/single.php:29 Stack trace: #0 /home/yourcode/public_html/wp/wp-includes/template-loader.php(74): include() #1 /home/yourcode/public_html/wp/wp-blog-header.php(19): require_once('/home/yourcode/...') #2 /home/yourcode/public_html/index.php(4): require('/home/yourcode/...') #3 {main} thrown in
/home/yourcode/public_html/wp/wp-content/themes/ciyc/single.php
on line
29