cool eats
Lilli and Loo: Gluten Free Gastronomy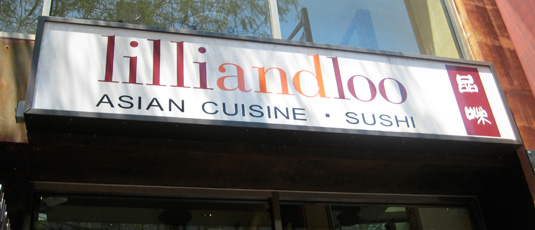 If you're living with Celiac's Disease you know that restaurant dining can be risky. However, a safe culinary experience is waiting to be had on Lexington Avenue at Lilli and Loo, a restaurant that works with the Gluten Intolerance Group to offer patrons gluten-free Asian cuisine in addition to their standard fare.
At this eatery gluten-free isn't synonymous with flavor-free. Their reasonably priced and generously portioned GF dishes such as pad Thai, (stir fried rice noodles seasoned with tamarind and garnished with peanuts and lime) are as rich as the originals. Tasty appetizers like the Saigon rolls come with a spicy mint dipping sauce. And diners can request wheat-free soy sauce to be used for GF entrees, creating an extensive and diverse gluten-free selection.
In addition to the menu options, the atmosphere at Lilli and Loo is delightful. The space covers two floors, but still manages to feel cozy. It is designed around ornately sculpted, cherry-red walls, and modern furnishings – all of which gives it a contemporary twist on traditional Asian decor.
So, if you're a Celiac looking for a place to relinquish your dining worries and you're out and about in the 10021 area, grab some friends and head to Lilli and Loo. Your gluten-deprived taste buds will thank you.
Lilli and Loo
792 Lexington Avenue
www.lilliandloo.com
See what else Cool in Your Code is dishing about here.
Do Food Allergies Dictate Your Dining Choices?
Post A Comment And Tell Us How You Handle It.
Fatal error
: Uncaught Error: Call to undefined function is_tellafriend() in /home/yourcode/public_html/wp/wp-content/themes/ciyc/single.php:29 Stack trace: #0 /home/yourcode/public_html/wp/wp-includes/template-loader.php(74): include() #1 /home/yourcode/public_html/wp/wp-blog-header.php(19): require_once('/home/yourcode/...') #2 /home/yourcode/public_html/index.php(4): require('/home/yourcode/...') #3 {main} thrown in
/home/yourcode/public_html/wp/wp-content/themes/ciyc/single.php
on line
29