code read
SJ Rozan
"I follow people down the street and I go to places I'm told not to go," says S.J. Rozan explaining how she prepares to write a gripping noir tale. Born and raised in the Bronx, this New Yorker was a perfect fit to edit the latest collection of dark short stories, Bronx Noir. The collection includes pieces from various writers intimately acquainted with the Bronx, resulting in tales that evoke the area so vividly that readers can almost smell the hot-dogs at Yankee stadium and hear the animals stirring at the zoo. "It's fun," Rozan comments on her roll as editor, "you get to meet all kinds of interesting writers." Rozan is herself an accomplished writer with an affinity for New York. Author of nine novels and numerous short stories, her work is always set in New York. "New York is pretty much another character," she admits. And while sometimes hard on this rough city, her love is apparent. Her work has won her various awards including the Edgar, Nero, Macavity, Shamus and Anthony awards for Best Novel and the Edgar award for best Short Story.
Rozan is a former architect who sees the influence of this earlier training in her writing. She's used to drafting and redrafting and keeps herself on a strict writing schedule. She's also a firm believer in good solutions that answer more than one problem. Next time you notice a woman slinking behind you down a narrow Bronx side street, think twice before calling the cops because it may just be Rozan concocting her next thrilling storyline.
Read more about Rozan's work at http://www.sjrozan.com
code read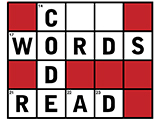 John Korduba is the poet for people who are bored by poetry. Read his poems "Barter" and "Cleaning Day."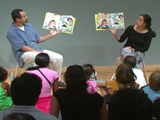 New York City is an incredible place to raise children. Just ask husband-and-wife writing team Paul DuBois Jacobs and Jennifer Swender, who followed their successful book My Subway Ride with My Taxi Ride.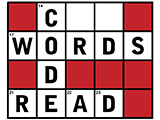 Read the poems Distraction and Park With Swans from "Everybody Gets Lost in Brooklyn".