around the blog
Cheryl Shops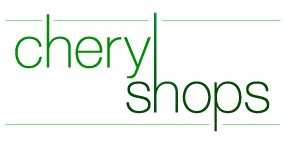 Cheryl Maday started Cheryl Shops in 2003 as a way to channel her fever for fashion into an outlet where others could benefit from her style savoir faire. Thus was born one very thorough destination site for all things designer…and discount.
Tell us about your blog. My friends were always asking me about sample sales and where to shop in New York, and I've always loved fashion, so that's what I decided to focus on. Sample sales are my most popular feature, but I also write about everything from designer-mass market collaborations, store reviews, seasonal trend guides, and general fashion news, and I've gone to the last five Fashion Weeks in Bryant Park.
What brought you to New York?
Back in college, I came to visit a few friends who were going to school here, and I completely fell in love with the city – the energy, the pace, the whole nine yards. I also majored in magazine journalism, so New York seemed like a pretty logical place to move.
What do you love about living in New York?
I love that everything happens here first – whether it's a restaurant or a band or a fashion designer, there's always something new and exciting happening. I love that you can walk through a neighborhood you haven't been to in a few months, and it can be completely different than the last time you were there. I also love not needing to own a car.
What do you think makes a New Yorker?
You definitely need a certain level of resilience to live here – a combination of ambition and persistence wrapped in a tough skin. Kind of like a weed!
What surprises you about New York or New Yorkers?
New Yorkers definitely have the reputation of being rude, and I don't think that's necessarily true. We're just really efficient, and maybe that comes across as brusque. And we love to give directions – I've had other New Yorkers stop and interrupt and correct me while giving directions!
Best tips, tricks or insider info?
Since New York City is the fashion capital of the country, there is really no reason for you to pay full retail for anything. Between sample sales, end-of-season sales, amazing resale boutiques, and all of the discount stores, plus the Woodbury Commons outlet mall upstate, there are endless off-price options. For assistance in this endeavor, read Cheryl Shops-I list the week's sales every Monday night.
Best corny tourist attraction that you secretly love?
I love toy stores-both F.A.O. Schwarz and Toys R Us-and am more than happy to accompany visitors with small children there. When my boyfriend's brother and his family were in town, we spent several hours playing around at F.A.O. Schwarz, like Tom Hanks in Big. I had a blast.
Best place to dine late night?
Had I responded to this several months ago, I would've recommended Florent in the Meatpacking District; the food was great and the clientele was ultra-fabulously downtown, but, sadly, it's now closed. As a slightly more mellow replacement, I suggest my favorite neighborhood restaurant, Bar Tabac, which is open till 3 a.m. on the weekends. The goat cheese salad is heavenly.
Best live music venue?
Radio City Music Hall. The Art Deco lobby makes you feel totally swanky, the sound quality is amazing, and-this is important because I'm an old lady-you get to sit down the whole time.
Best kept secret in neighborhood fashion boutiques?
I don't know if there's such a thing as a best-kept secret in media-saturated New York, but Gabay's in the East Village is fairly under the radar in terms of discount shopping. They get overstock from stores like Bergdorf Goodman and Henri Bendel, so you can usually find designer clothes and accessories-think Chloé, Marc Jacobs, Manolo Blahnik-for pretty good prices.
Best area or neighborhood for fashion steals?
Chelsea has Filene's Basement, TJ Maxx, and Loehmann's, plus the Barneys Warehouse Sale twice a year, and there are frequently sample sales at the Metropolitan Pavilion. I also love the designer resale shop Fisch for the Hip on 18th Street. If you've got time to dig, go dig there.
Best way to spot a trend?
For a refined experience, walk around Soho on a weekday – between the shopgirls, showrooms, and various artsy people who work down there, everyone is devastatingly stylish.
Best high end shop? Best place to find reasonable knock offs?
For high end, count me among those who worship at the altar of Jeffrey. The shoes are to die for (and somewhat more affordable during the twice-yearly sales), they have a great mix of big-name designer and cutting-edge labels, and the salespeople are lovely. Of all the fast-fashion chains in the city, I still think H&M is the best. Zara has better quality and Forever 21 has better prices, but H&M has a stronger, on-trend runway influence. Of course, once Topshop opens later this year, I'm bound to change my mind!
Which Sales Have You Sampled Successfully?
Post A Comment And Let Us Know!
around the blog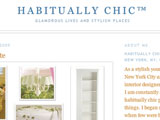 For the Habitually Chic Heather, inspiration and design are just two of the innumerable themes that can be found in abundance in both New York City as well as her blog.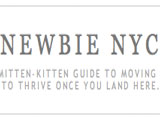 New to New York City? Unsure of how to start looking for an apartment? Curious about where you can start making friends? For many of these answers, you can turn to New York City newbie, Mary Hilton's blog. She made the move to the city from Washington D.C. a few years ago.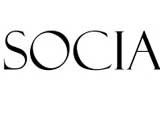 For those people who in High School just missed being voted the hippest, liveliest, or most fun person in the grade, there is now a new site for them to redeem their past social misfortunes.